Melanie Nocher retires from competitive swimming
Last updated on .From the section Swimming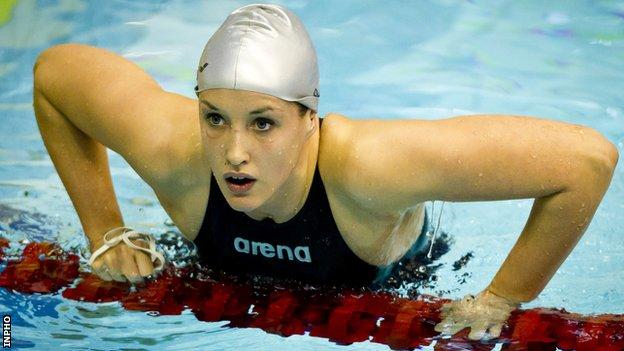 Olympic swimmer Melanie Nocher has announced her retirement from international competition.
The Northern Ireland woman competed at the Olympic Games in 2008 and 2012 and won a bronze medal at the 2011 European Short Course Championships.
Backstroke specialist Nocher, 24, said that it was time for her to "move on to other challenges".
"I would like to say a huge thank you to everyone who has helped me along the way," Nocher said on her website.
"I can promise I will remember everyone who has helped me.
"I would like to thank Swim Ulster and Swim Ireland for all the coaching and support they have provided in and out of the pool.
"Thank you also to the Irish Sports Council and Sport Council Northern Ireland for financially helping me, ensuring I could live as an elite athlete to train full-time and compete at my best."
Nocher has been one of Ireland's top swimmers for a decade and before the age of 19 had already won six Irish senior titles.
However, her career ended on a disappointing note when a stomach bug prevented her from producing her best form at the London Olympics.
Nocher was over five seconds outside her personal best in the 200m backstroke heats as she clocked 2:16.29.
That came two months after she produced the swim of her life to take fifth at the European Long Course Championships and secure Olympic qualification by .09 of a second.