Hannah Miley undecided on Rio medal bid

By Heather Dewar
BBC Scotland
Last updated on .From the section Swimming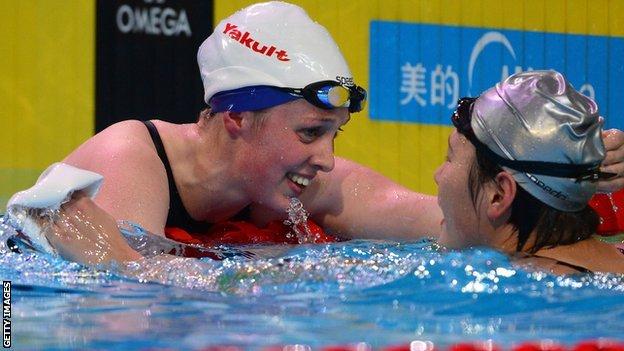 Scottish swimmer Hannah Miley has revealed she is undecided on whether to compete in the Rio Olympics in 2016.
Miley, 23, will assess her future after seeking to defend her Commonwealth gold medal in Glasgow 2014.
"I think having done a home Olympics and then to have a home Commonwealth Games is quite a nice way to round off a career," she said.
"I would like to look for Rio but I do need to reassess things after the Commonwealths."
However, although Aberdeenshire-based Miley could be tempted to aim for Brazil, she insists thoughts of what she will do with her life after swimming are high in her mind.
"I need to make sure that I've got my life in check," she said.
"Once my swimming is finished I've got to have that safety net of knowing that I can make that transition into the normal world.
"I still work with my family and it's a huge toll and sacrifice that they keep making and I need to keep checking that it is still OK.
"So it's not definite that I will retire but I do need to reassess my situation after two years.
"It's not 100% certain. I am keeping things short-sighted at the moment as I feel so far it seems to be working."
Miley, who won gold in the 400m individual medley at the World Short Course Championships in Istanbul in December, spoke of possible career paths once she retires from the sport.
"I want to get the best I can out of my swimming career but once I've finished then take my knowledge to do swim clinics," she said.
"I'd love to be able to pass on my knowledge to, and share my experience with, the future generation."
And Miley also revealed a career ambition far removed from life in the pool.
"When I was younger I had a huge desire to work with animals, like become a vet or a veterinary nurse," she said.
"It was a big decision for me not to pursue that because I chose sport. Now it's exciting to think I could pursue it. It's nice having those options.
"I recently got to go behind the scenes with the zoo-keepers at Edinburgh Zoo. It was one of the best days of my life and it just re-affirmed that desire for working with animals and how important it was to me."