Dan Sliwinski relying on parent hand-outs as funding is cut
By Phil Cunliffe
BBC Radio Lancashire Sport
Last updated on .From the section Swimming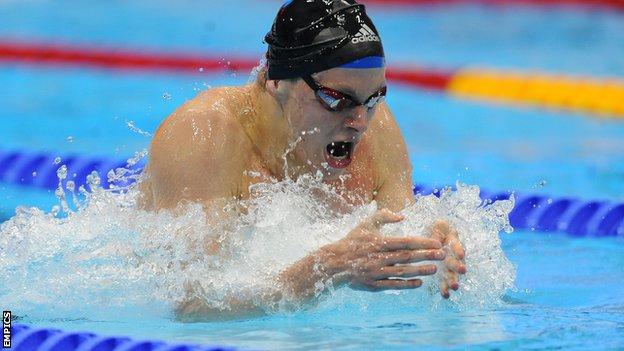 Swimmer Dan Sliwinski is "sick" of having to rely on his parents for money after his funding was cut because he missed the London 2012 Olympics.
Preston-born Sliwinski, 22,
The support he received from UK Sport was subsequently reduced, but will be reviewed again in March.
"You wouldn't think you'd get sick of your parents paying for it [supporting his career], but I don't like it any more," he told BBC Radio Lancashire.
"I've been left nothing. My mother and father, (pay for it) unfortunately. It's becoming a mental burden for me."
A number of athletes are having to adjust to reduced funding following London 2012.
at having his funding cut, despite finishing fourth alongside Tom Daley in the Olympics 10m synchronised platform final, and said he is considering retirement.
Sliwinski, who swims for Stockport ITC, holds the British record of 59.55 secs in the 100m breaststroke and won the event at the British Swimming Championships last March, which doubled as Team GB's Olympic trials.
Having undergone surgery on a shoulder tendon problem, he is now back in training and aiming for the 2014 Commonwealth Games in Glasgow, having picked up a bronze medal as part of England's 4x100m relay team four years ago.
After that, he will turn his attention to trying to qualify for the 2016 Olympics in Rio.
Prior to his injury, Sliwinski received "podium" level funding - the highest tier available.
It was downgraded to "development" level, worth around £500 per month, after he was forced to miss the London Games.
Sliwinski's mother, Christine Denton, has revealed the extent of the problems it has caused him.
"It doesn't even cover his rent," she said.
"It's gratefully received, but the problem is the food, because he has to eat healthy to perform which is expensive.
"He can't physically go out and work because he is training 40 hours a week and part of his schedule is resting and eating.
"Even though we're trying to cover everything for him, he doesn't have £20 in his pocket. He is holding back on his social life and relationships because he doesn't have any money.
"You look at other sports like the ones that kick a ball around - they still get paid when they get injured - one is on £92,000 per week. It doesn't seem fair."