Lisburn swimmer Bethany Carson on Rio Olympics trail
By John Haughey
BBC Sport NI
Last updated on .From the section Swimming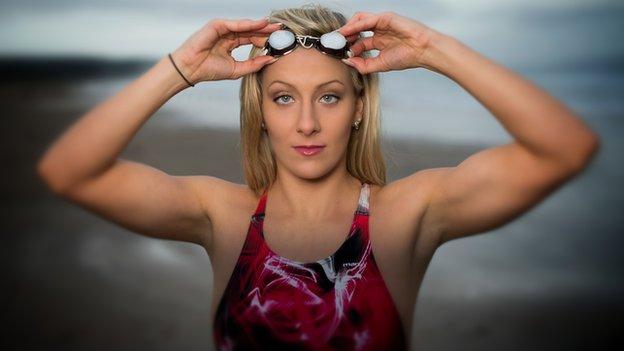 Lisburn swimmer Bethany Carson insists that uncertainty over her training base and competition schedule this year won't put her off her strokes as she aims to qualify for the World Championships in Barcelona during the summer.
With the new 50 metre pool in Bangor not yet completed, the 21-year-old is continuing to train at the National Aquatic Centre in Dublin under the direction of Paul Donovan and Swim Ireland performance director Peter Banks.
Carson's initial plans for 2013 included the World University Games in Russia in early July.
However, with her currently based in Dublin, she has been unable to resume her Sports Science degree at the University of Ulster so she may not be eligible to compete in Kazan.
"We're trying to figure out a way I can get to the World Student Games but it's not looking good at the minute," Carson told BBC Sport NI.
"Technically, I'm on a year out although I have been looking at some courses in Dublin."
The Ulsterwoman improved her personal best in her specialist 200m individual medley event by a second at her opening competition of 2013 in Luxembourg two weeks ago.
At the same meet, she also cut over five seconds off her previous 200m butterfly best although she cautions that her previous mark was set three years ago and that she had not competed in the strength-sapping event since then because of a back injury, which has plagued her throughout her career.
"I did a 2:15 200m butterfly in Luxembourg and was really happy with that and taking a second off my 200 IM time was pretty good as well.
"In Dublin, I can get as much pool time as I want and there's a lot of leeway if you want to work on something in particular and you have the space to do it.
"The training group includes Brendan Hyland who has really progressed over the last year as well as Barry Murphy who has come back from America and brings a lot of experience.
"If I go back north I'll be working with my old coach Andy Reid which will be good and if not, I'll not worry because I'll be comfortable here."
Carson has been undertaking the swimmer's regime of early-morning training since the age of 11 although she insists she was a "relatively late starter" to the sport.
"You never really get used to the alarm going off that early but I put in the hours at Lisburn and just grew to love it."
The effort clearly paid off as Carson became a finalist at the European Junior Championships before qualifying to represent Northern Ireland at the Commonwealth Games in New Delhi in October 2010.
The Games were very much a family affair for the Carsons as her brother Luke competed in gymnastics in the Indian capital.
"Seeing all those great swimmers there really told me that this is what I want to be doing.
"The team atmosphere with Northern Ireland was great and of course being there with my brother was something else as well.
"I'm already looking forward to the 2014 Commonwealths in Glasgow and hopefully Luke will be there again as he is training again after a leg fracture last year ended his hopes of competing at the London Olympics."
Bethany's London dreams were also dashed as the qualifying marks proved elusive even though she did manage to break Michelle de Bruin's 16-year-old Irish 100m butterfly record four months before the Games.
With her back injury problems now hopefully firmly behind her, Carson is mapping out a career path which she hopes will see her qualifying for Rio Games in 2016.
Financial support from Sport Northern Ireland and the Sports Institute at Jordanstown has proved vital over the last 12 months.
"Thanks to SINI, I managed to get (a) living costs (grant) last year and that absolutely saved me and lifted a big weight off my shoulders.
"Hopefully, I'll get that again although there are no guarantees so my Mum (Gilly) and Dad (Michael) are always the lifeline."
But the portents for 2013 look promising. Earlier this week, Peter Banks pointedly referred to Carson when he was talking about his hopes for the national squad over the next 12 months.
Away from the pool, Carson has been persuaded to try her hand at some modelling by her agent, the former sports journalist Alex McGreevy.
"My friends and family told me to go for it and I figured if I could make a little money that way, why not? It's bringing a bit of fun and I'm told there are a few photo-shoots in the pipeline."
In addition to her modelling, Carson was also recently appointed as an ambassador of the Asthma Society of Ireland.
Bethany was diagnosed as an Asthmatic in her early childhood although she admits that she was in denial about her condition in her initial years in the sport.
"For a long time, I didn't take my inhalers properly because I didn't like people seeing me take them and maybe thinking I was cheating. Stupid, I know.
"That resulted in a few Asthma attacks so things had to change."
But while her activities away from the pool are a nice diversion, she insists that her main focus remains on her swimming career.
"Swim Ireland are pushing the barriers and the tougher qualifying times mean all of us have to raise your game.
"I'm getting the necessary strength and conditioning work and physio because of the SINI set-up and the gym side of things is a key factor in the sport moving on."
So if all goes to plan, Carson will join the already-qualified and "extremely talented" Sycerika McMahon at the World Championships in Barcelona in late July.