Rebecca Adlington: Olympian ready for life after swimming
By Nick Hope
BBC Olympic sports reporter
Last updated on .From the section Swimming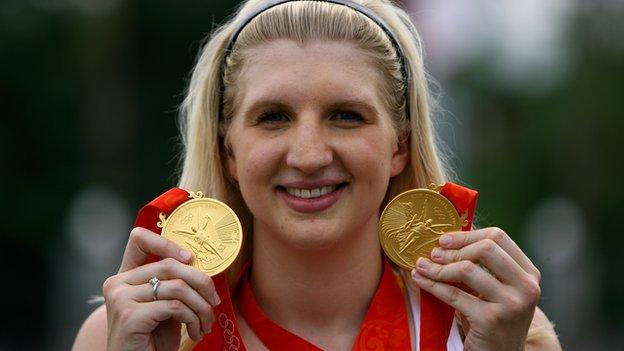 With four Olympic medals, two gold and two bronze, Rebecca Adlington retires from competition as Britain's most decorated swimmer.
Her career may have ended in tears of sadness rather than joy after she finished third in the Olympic 800m freestyle final, but Adlington's status and legacy was secured long before she touched the wall for the final time at London 2012.
Her place among the world's elite was secured at the tender age of 19, shooting into the public consciousness after a hugely surprising victory in the 400m freestyle final at the 2008 Beijing Games.
Just five days later she returned for her favoured 800m event and swam the race of her life - not only winning, but breaking legendary Olympian Janet Evans's world record, which had stood for 19 years.
The double gold predictably saw her described as British Swimming's "golden girl" and she was also regarded as the sport's saviour after years of under-performance.
However, Adlington's achievements brought with them greater expectation and scrutiny, and the Mansfield-born star admitted she struggled to cope with the pressure at times.
Critics attacked her after she failed to win an 800m medal at the 2009 World Championships, while at the 2010 Europeans the swimmer admitted to "choking" for the first time in her career.
She still took double Commonwealth gold later that year and was back in prime form in 2011 where she claimed a maiden senior world title - completing her collecting of major international medals.
As she announces her retirement at the age of 23, BBC Sport talks to some of the fellow swimmers and pundits who have watched her career.
Why retire at 23?
In most walks of life, and even in many sports, at 23 you are considered to be very much at the beginning of your career.
While it is not unusual for swimming's sprinters to remain at the top into their thirties - British 50m specialist Mark Foster competed in Beijing at the age of 38, for example - for distance swimmers like Adlington, the years of 70,000m per week training take their toll.
US distance swimming great Evans, whose 800m record Adlington broke, won the first of her Olympic titles in 1988 at the age 16 and her last Olympic medal just four years later. She quit shortly after the 1996 Games in Atlanta at the age of 25. An attempted comeback in 2011 at age 39 saw her fail to qualify for the London Games.
Adlington was given a stark reminder of the power of youth at London 2012 when 15-year-old American Katie Ledecky took her 800m title and soon after the Games the Briton admitted Rio 2016 would be a step too far.
"All elite athletes at some stage have to ask themselves, 'can it get any better than it is now?'" says 2004 Olympic bronze medallist Steve Parry.
"She's won everything there is to win in our sport so what will she gain by going to Rio at 27?
"She is being true to herself by saying getting up every day to train, when it won't improve her legacy, isn't something she wants to do."
However, Great Britain's first Olympic swimming champion since 1988 did initially suggest the 2014 Glasgow Commonwealths might still have been a realistic goal.
"I think if I'd been Becky, I might have been prepared to say 'I'm going to give it one last go at the Commonwealths' because the level of competition isn't the same as the Olympics," 1980 Olympic silver medallist Sharron Davies told BBC Sport.
"It's nice for athletes to go out on the top because you get remembered for competing well - but she's had a fantastic career and I don't believe that two bronze medals [at London 2012] was a failure at all."
The legacy
When Adlington won her second Beijing gold she not only became the sport's first British double Olympic swimming champion since Henry Taylor in 1908, but was also the first British woman to achieve that honour.
"What Becky did for British women's sport in particular was give them faith they could do it," says Davies.
Former team-mate Cassie Patten, who finished eighth in that 800m final and won 10km open water bronze at the same Games, agrees Adlington's achievement was a huge moment for the status of women's swimming in Britain.
"If you look back, swimming had been a male-dominated sport for a long time and then Becky came through and became a household name," said Patten.
"Teenage girls thought it's cool to go and swim and it's OK to have big shoulders because you can put a dress on and look just as feminine as the next person.
"I think she's had a huge impact on that perception."
But if the perception has changed, that has yet to be reflected in grassroots uptake of the sport. Swimming participation in the UK has actually been on the decline since 2009, according to Sport England statistics, and Adlington now hopes to help change that picture by launching a foundation aimed at encouraging more youngsters to swim - as part of a broader bid to tackle the country's obesity problem.
For friend and former team-mate Keri-Anne Payne, a silver medallist in Beijing, Adlington is a figure who can inspire grassroots and elite swimmers alike.
"She has already inspired a generation with all she has done and people always stop her for photos which she never turns down, but I think she will be a great mentor and will always be around the sport, supporting us."
The challenges ahead
"It's not making the decision [to retire] that's the hardest it's living with it," reflects Davies, who originally retired at the age of 18 before returning 10 years later to win two more medals at the 1990 Commonwealth Games.
An end to those 5am alarm calls and constant aching limbs may sound like a welcome change, but switching off will be far from straightforward.
Patten admits she struggled with depression after a shoulder injury forced her to quit the sport in the build-up to London 2012 and says finding a new focus quickly is essential.
"It's hard because it's something you love that's not there any more," said the 26-year-old.
"As swimmers, all of your friends are in the sport and your life is very regimented so it's very difficult to get used to the change.
"You need to fill your life with something else as quickly as possible because the longer you leave it the harder it becomes."
After the Olympics, Adlington embarked on one of the toughest challenges of her career by taking on a 450km charity bike ride across Zambia to help African orphans affected by HIV and Aids, and the "Rebecca Adlington Swim Stars" programme, designed to encourage youngsters to take up swimming, will occupy much of her energy in the future.
Nevertheless, says Davies, in the short term, retirement can be hard work.
"Whether it was the right decision or not, there's going to be a time in six months when there's a major competition on and she really just misses being there with her mates and experiencing the highs and lows these events bring," she says.
But Payne does not expect her friend to be far from the action for long.
"It will be odd her not competing but I think she is still a huge asset to British Swimming and will still be around in some capacity," she says.
"I think she will do all she can to be at the next Olympics to support us. I'm sure she'll want to be there."