Jazz Carlin: Wiltshire swimmer positive after 'disappointing' 2012
Last updated on .From the section Swimming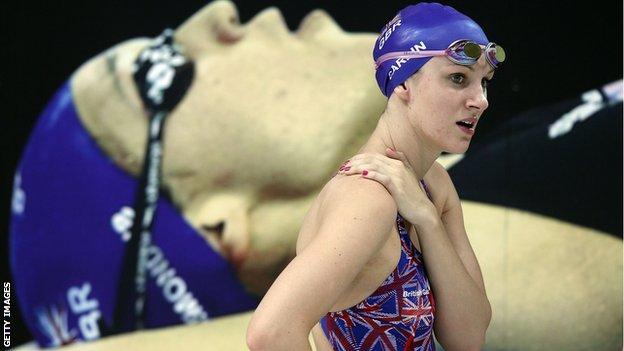 Freestyle swimmer Jazz Carlin believes she has come back stronger after a disappointing 2012 season.
The Swindon-born 22-year-old was hampered by injury and illness, and missed out on qualifying for Team GB at the London Olympics.
"I was down for quite a few months, dwelling on the fact I didn't make it," Carlin told BBC Wiltshire.
"But I've come back with a fresh attitude and I've got to try and look at the positives."
A Commonwealth silver and bronze medallist for Wales at Delhi in 2010, Swansea-based Carlin had been suffering from a bout of glandular fever and tonsillitis during Olympic qualification.
She was unable to secure a place in her favoured 400m freestyle during qualifying in March, and also failed to claim an individual 200 metres and 4x200m spot during events in June.
"It was a disappointing summer and it was hard to watch," she continued.
"But I've been training harder than I ever had and I've been doing sessions I never thought I'd be able to do.
"I had my tonsils removed and I feel fitter than ever. I've lost a few kilograms - my training has allowed that. It all helps and hopefully I can build on that for the World Championships."
Carlin will next compete at the British Open, before the World Championship trials in June.
And she is feeling confident after finishing fifth with a personal best in the World Short Course Championships in Istanbul in December.
"I was just over a second off a gold medal, which I can't complain about. I'd loved to have been on the podium but there's still next time.
"Short course isn't my favourite event so hopefully when it comes to long course I can improve on that."