Guernsey happy with Island Games 2013 swim team
Last updated on .From the section Swimming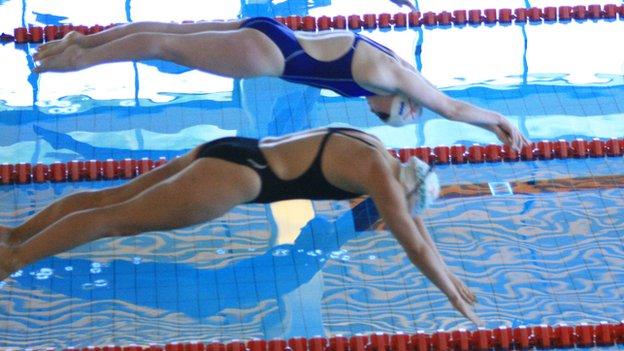 The head of Guernsey's Island Games swimming team says he is confident that the squad will do well, despite their top two swimmers not travelling to the event in Bermuda.
Guernsey won 15 gold medals at the 2011 games in the Isle of Wight.
But Kristina Neves, who won six individual gold, and Ian Powell, who got five, will not be making the trip.
The duo also won three silvers and a bronze and were part of all of the island's medal-winning relay teams.
But with swimmers having to commit £2,000 per person towards the cost of the games 18 months ago, Brian Allen says some of the island's established stars were always likely to pull out.
"At that time it was a sad inevitability that certain people weren't going to commit," he told BBC Guernsey.
"But time moves on and luckily we've got youngsters that have stepped up and they know those gaps have got to be filled and they've been working very hard to fill those places."
and Commonwealth games swimmer Powell head a list of experienced racers who will not be making the trip.
Powell, 27, is arguably the best-ever male swimmer from Guernsey.
As well as winning a total of 23 individual medals at four Island Games, he has also swum at the last three Commonwealth Games, making two finals in Melbourne in 2006.
He has also won medals at national level and swam for Florida State University.
But Tom Hollingsworth, who won eight individual medals last time including two gold, heads a squad that has experience through the likes of Jeremy Osborne and Ben Lowndes.
"The squad was 35 and we've cut that down to our Island Games squad of about 20," Allen said.
"We've looked at the best swimmers and we've got two swimmers for each event coming through.
"It's been very hard because they've all been working hard for the past 18 months," he added.