British Swimming Championships: Jazmin Carlin takes third gold
By Nick Hope
BBC sports reporter at Ponds Forge
Last updated on .From the section Swimming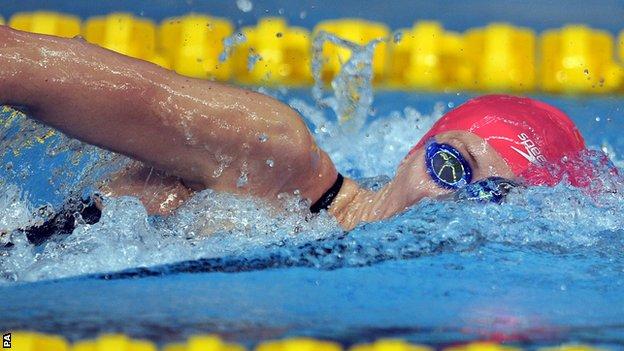 Jazmin Carlin rounded off an impressive British Championships by claiming her third gold medal and a Welsh record in the 400m freestyle.
After 800m and 1500m success earlier in the week she will have to decide which distances to compete in at the World Championships in Barcelona next month.
Another with decisions to make is Daniel Fogg, who like Carlin won over all three distances in Sheffield.
Francesca Halsall also impressed with 50m butterfly and 100m freestyle wins.
Swansea-based Carlin, 22, touched home in four minutes 4.25 seconds - ahead of Eleanor Faulkner, whose time of 4.09.07 was not enough to secure a place at the Worlds.
"It's been better than I could ever have expected really," said Carlin, who may face a battle with her coach Bud McAllister over which events to swim in Barcelona.
"You can never write doing all of them off, but he thinks I'm more favoured in the 800m and 1500m so that's the main focus on his part, but I don't want to let go of the 400m."
Fogg was the clear winner in the 1500m final in 15 minutes and 1.74 seconds and he could potentially compete in four events at the Worlds.
The 25-year-old qualified automatically for the 10 kilometre open water event by virtue of finishing in the top five at last year's Olympics.
"The 10k is the most difficult and will take the most out of me and the main thing after that will be to recover for the 1500m," Fogg told BBC Sport.
"Whether I do the 400m and 800m in between we don't really know yet but to have the choice is a good position to be in."
The British Championships have shown a return to form for Halsall after she missed out on a medal by just 0.08 seconds and struggled with a shoulder injury at the London Olympics.
The 23-year-old won the 50m freestyle title on Thursday, adding 50m butterfly and 100m freestyle gold medals to her collection on the final night, but is likely to stick with the shorter distances next month.
"The shoulder is OK and holding up and it's good to see where I am and I'm happy," said the former European Champion.
In the men's 100m breaststroke final Michael Jamieson, Olympic silver medallist over the 200m distance, was beaten into second place by Ross Murdoch but both Scottish swimmers qualified for the World Championships.
"That meant a lot to me," Murdoch said after finishing in 59.80 secs.
"I wasn't thinking about [Jamieson's] Olympic silver because you're only as good as your last swim and tonight we were both in the same race, it was all on the line and I came out on top."
Jamieson, who revealed he almost skipped the event after struggling to recover from a torn biceps tendon, added: "I'm not overly happy with finishing second because you always want to win, but hats off to Russ there.
"I was going to take the week off and go to Wimbledon so it's a bonus to get selection in this."
Other winners on the final night of the British Championships in Sheffield included Adam Brown (100m freestyle), Georgia Davies (50m backstroke), Roberto Pavoni (400m individual medley) and Michael Rock (100m butterfly) who all achieved World qualification.
Stacey Tadd also claimed gold in the 200m breaststroke but her time of two minutes 27.51 was not enough to book her a place on the plane to Barcelona next month.
Ahead of the event British Swimming stated they would take a 30-strong squad to the World Championships, but with 33 athletes attaining qualification times there may be some tough decision for new head coach Bill Furniss and the selection panel to make.
"The selection policy was challenging and a lot of swimmers have found it difficult to handle," said Furniss.
"In the past it has been a case of if you made the time, you made the team whereas now if you have the time, you have consideration for selection onto the team, that one change alone has made it a more uncomfortable week which I think is a good thing."