Rebecca Adlington joins BBC TV for World Swimming Champs
Last updated on .From the section Swimming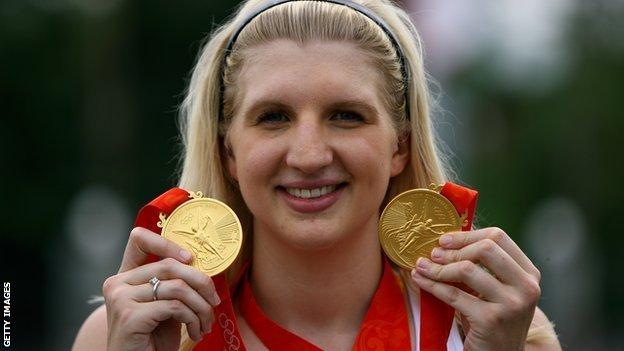 Double Olympic gold medallist Rebecca Adlington has joined BBC television for the 2013 World Swimming Championships.
Adlington announced her retirement from swimming in February 2013.
"It's going to be a very interesting and exciting competition, especially after an Olympic year," Adlington said.
"I'm so glad it's back on people's TV screens as I know people love watching it and people always ask me when the swimming is next on.
"I'm so excited to be part of this amazing BBC team. I have known most of them for a long time but always been on the other side so it's so nice now I've retired to be able to join them."
Adlington won gold in the 800m and silver in the 400m freestyle races at the 2011 World Championships held in Shanghai in July 2011.
Great Britain have named a party of 27 for the 2013 event with new head coach Bill Furniss selecting athletes considered to have medal potential for Rio 2016
Adlington added: "Hopefully people will get to know the up and coming athletes especially with the 2014 Commonwealth Games in Glasgow fast approaching.
"I can't wait to get out to Barcelona and witness some incredible swimming."