Sycerika McMahon 'devastated' by World Championships blow
Last updated on .From the section Swimming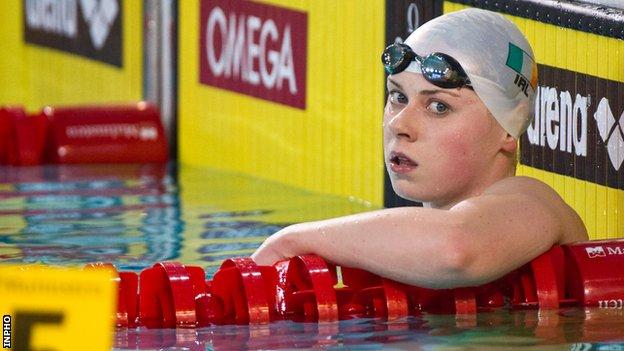 Sycerika McMahon says she is devastated after being told she will not compete in the breaststroke at this week's World Championships in Spain.
The 18-year-old from Portaferry was unaware she had not achieved the required A standard for the Barcelona event within the specified time period.
McMahon claimed that no-one from Swim Ireland pointed this out to her until after the time window had elapsed.
"I'm devastated. To be told this at the last minute is pretty bad," she said.
McMahon has enjoyed a successful start to her swimming career at 50 metres breaststroke, winning a silver medal at last year's European Championships and a bronze at the European Short Course Championships six months later.
She made the A standard for the World Championships in securing silver in May 2012, and believed this qualified her for the breaststroke in Barcelona.
At the Irish National Championships in May, in consultation with Swim Ireland and so she could have a lighter programme, McMahon did not swim breaststroke events as she thought she had the qualifying time.
However, the qualification period did not start until 1 July last year and McMahon's best was a B standard time in February.
As another Irish swimmer, Fiona Doyle, had the A standard, McMahon couldn't be entered in breaststroke events with a B time.
While training in Italy earlier this month she received a phone call telling her she did not have the required time during the qualifying period - the first time Swim Ireland had informed her.
"I have been training mainly for the breaststroke and to be told at the last minute, two weeks before the competition, that you can't swim in your best event is pretty bad," added McMahon.
"However, I will try to turn it around and do the best I can in the individual medley and freestyle."
Swim Ireland confirmed that McMahon had not qualified for the 50m breaststroke.
It added: "Sycerika is a very dedicated, talented athlete and we look forward to watching her progress through the World Championships and onto the Olympics in 2016."
McMahon is also concerned that her funding will be reduced as a result of not competing in the breaststroke in Barcelona.
"Everyone who is funded is set targets. As I haven't swam any major events this year, apart from the European Short Course Championships, I'm at risk of my funding being cut," she said.
"I initially found this unfair - my target was to swim the 50m and 100m breaststroke and hopefully get a second swim (semi-finals), who knows even a third swim (final) in the 50m.
"If I don't make a second swim then my funding will probably be cut."