Keri-Anne Payne angry with rivals after World Championships defeat
By Nick Hope
BBC Olympic sports reporter
Last updated on .From the section Swimming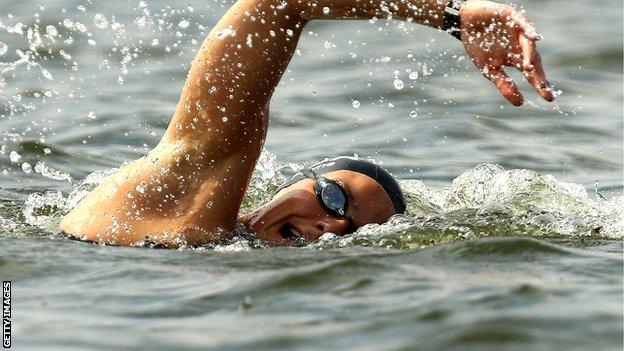 Keri-Anne Payne criticised the overly aggressive tactics used by her rivals after finishing 14th in the defence of her world open water crown.
Payne, 25, was in contention for a World Championships medal until the latter stages of the race in Barcelona.
The 10k victory went to Brazilian Polina Okimoto Cintra in one hour 58 minutes 19.2 seconds with team-mate Ana Marcela Cunha just behind in second.
"It was just absolute carnage," Payne told BBC 5 live.
"I have no idea how many places I lost going around one of the last markers but I was getting pushed, dunked, hit in the face and swam all over.
"I am so disappointed that girls think they can be that rough during the race and get away with it."
Payne finished an agonising 0.4 seconds off the podium places at the London Olympics and considered quitting the sport later that year.
A move to Edinburgh to be with her new husband David Carry reinvigorated her love for the sport and the Beijing Olympic silver medallist returned to full-time training in February.
"I still made it here and did what I wanted this season because this time last year I was pretty much ready to throw the towel in," she said.
"But if this is what happens in open water swimming now and I can't handle it then, to be honest, I'm probably doing the wrong sport.
"I really don't want to sound like I'm moaning because at the end of the day I absolutely just didn't have enough or what it took to be the world champion today, but it wasn't the type of race I was hoping for."
Her team-mate Danielle Huskisson, 20, kept up with the pace set by the leading pack in the opening stages and was seventh after the first of four laps.
However she tired in the closing stages and finished 33rd in her World Championships debut.
"It was absolutely brutal out there today," admitted Huskisson.
"It wasn't what I was expecting and I was being pulled all over the place but it is all good experience for the future."