Swimming: FINA approves introduction of mixed relays
By Nick Hope
BBC Olympic sports reporter in Barcelona
Last updated on .From the section Swimming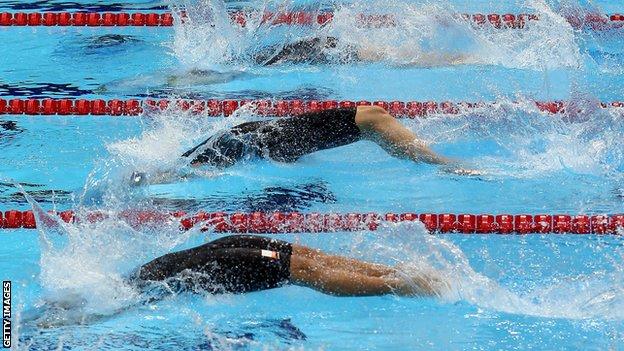 Swimming's world governing body, FINA, has approved the introduction of mixed relays, featuring two men and two women, to official competitions from 25 September this year.
The decision was made during a congress in Barcelona where delegates from 134 national federations were present.
The mixed relays will be included at a major event for the first time at the 2014 World Short Course Championships.
Beijing Olympic silver medallist Keri-Anne Payne tweeted: "This is amazing!"
Great Britain have already tried out the event this year and attained success.
Just last week a GB quartet landed mixed freestyle relay silver at the European Youth Olympic festival in Utrecht, Netherlands.
"I think it's going to be interesting and exciting and a lot of tactics are going to come into play," said former world champion and BBC Radio 5 live summariser Karen Pickering.
"A lot more teams will be able to field very competitive teams, whereas it's difficult for some countries to put four good swimmers together for a men's or female relay. But two of each is definitely more doable for a lot of relays, so the races will be closer and we'll have more teams entered.
"My only reservation is where they are going to fit it into an already very crowded programme. You're going to see a lot of swimmers having to add another two races to an eight-day programme and that's going to be tough."