Swimming: London to stage 2016 European Championships
Last updated on .From the section Swimming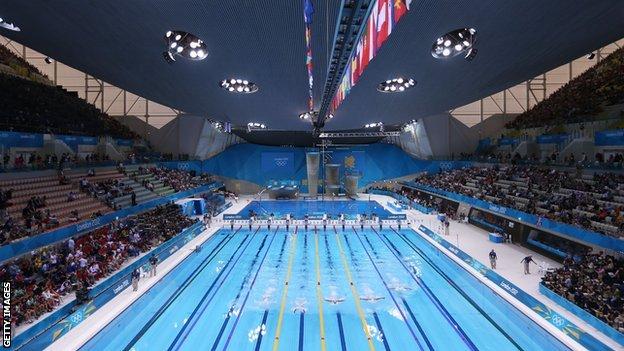 London has been chosen to host the 2016 European Championships - the first international event at the Aquatics Centre since last year's Olympics.
The Stratford venue will also host the European Masters Championships, for swimmers over the age of 25.
The date has yet to be finalised but, given it is an Olympic year, it will likely be before July.
The bid involved a partnership of British Swimming, UK Sport, the Olympic Park Legacy Company and London.
British Swimming chief executive David Sparkes said: "The competition is an important stepping stone to enable our elite athletes to compete at a high quality competition early in 2016 before they travel out to the Olympic Games.
"It will also allow every swimmer in Britain to enter the European Masters Championships and swim in the Olympic pool in London and experience the fantastic atmosphere of the venue."
Minister for Sport Hugh Robertson said: "I am delighted that we've landed the 2016 European Championships.
"It's the latest addition to a stellar line-up of world class sport events coming to Britain as part of the legacy from London 2012. I am sure the British public will be hugely supportive and pack the Aquatic Centre out on the Queen Elizabeth Olympic Park."