British Swimming begin new era at Barcelona World Championships
By Nick Hope
BBC Olympic sports reporter in Barcelona
Last updated on .From the section Swimming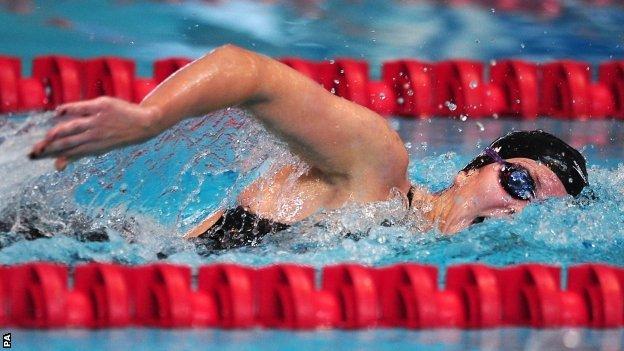 British Swimming head coach Bill Furniss is predicting a tough test for his squad at the World Championships.
They start in Barcelona on Sunday and UK Sport has set a minimum target of three medals as the team begins rebuilding after the 2012 Olympics.
GB won three medals in London - but they are without 2012 double bronze medallist Rebecca Adlington.
"It'll be an extremely tough and difficult championships," said Furniss, who coached the retired Adlington.
"I think this will be one of the most competitive World Championships ever where many records could be broken and we have to prepare for that."
Of the absence of Adlington, he added: "Rebecca was a presence, a stitched-on medallist.
"She produced time and time again and I'm not going to disguise that [her absence] is a hit. But we have to move forward."
UK Sport has set a target of three to five medals, with three of them in Olympic events.
"I don't think the medal target is an unrealistic one, but as you saw in the open water [where Daniel Fogg and Keri-Anne Payne missed out on medals], they were brutal races and it's a sport where you have to take every opportunity."
Barcelona 2013 heralds something of a new era for the squad, whose budget of £21.3m for the four years leading up to the Rio Olympics is around £4m less than they received in the build-up to London 2012.
In addition to Furniss, Chris Spice has replaced Michael Scott as British Swimming's performance director following previous roles with the GB Basketball, England Rugby and England Hockey set-ups.
The new staff instilled a tough selection criteria at the GB trials last month and reduced the number of squad swimmers in Barcelona from the usual size of around 35 to 27.
It meant leaving at home reigning 50m backstroke world champion Liam Tancock, who achieved the qualification time in his favoured event but was not selected as it is not in the Olympic programme.
"We have had a pretty significant funding cut so we've had to focus the spending," added Furniss, who was appointed in February.
"It's a very clear message, we're judged on Olympic medals by UK Sport and the public so we have to focus on those events and try to deliver more medals in Rio."
One of those who it is hoped will deliver a strong performance in Barcelona - and eventually in Brazil in 2016 - is Welsh swimmer Jazz Carlin
The 22-year-old missed London 2012 after suffering from glandular fever in the build-up to the Olympic trials, but returned to form with a world leading time in the 1500m at the World Championships trials.
"Last year a lot of people wrote swimming off as a sport and I think it's really disappointing because we've had such a successful cycle of medals and success over the past four-to-five years," Carlin told BBC Sport.
"I think we'll want to prove a point that swimming is still a great sport and we still have a lot of talent coming through."
Olympic silver medallist Michael Jamieson's is the fastest in the world this year.
The 24-year-old, who is based in Bath, wants to lower that further as he attempts to get the better of rival Daniel Gyurta of Hungary, who won gold in London.
"Last year I was over the moon with the result [Olympic silver] but now I look back and kick myself for not realising I could win gold until it was too late - now I have the belief that I can beat him," said Jamieson.
Other British swimmers who are expected to challenge for honours include 2011 world silver medallist Hannah Miley and former European champion Francesca Halsall.
There is also intrigue at the prospect of seeing new faces such as Ross Murdoch - who beat Jamieson in the 100m breaststroke at the British trials - and Ben Proud, who broke Mark Foster's long-standing 50m butterfly GB record at the same meet.