Ryan Lochte missing swimming rivalry with Michael Phelps

By Nick Hope
BBC Olympic sports reporter in Barcelona
Last updated on .From the section Swimming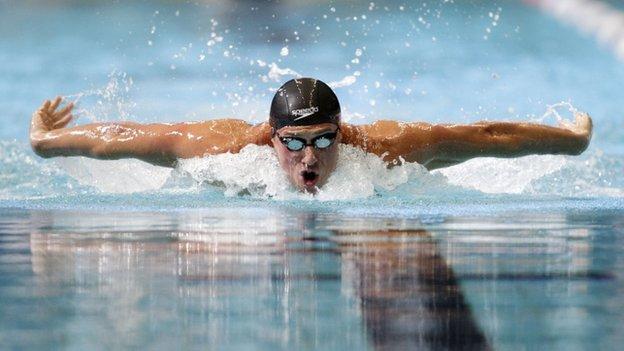 Five-time US Olympic champion Ryan Lochte said that he misses his rivalry with Michael Phelps as he prepares for the World Championships in Barcelona.
Lochte and Phelps were long-standing rivals, with the latter winning their last duel by claiming 200m individual medley gold in London.
"Now that he's gone I'm definitely going to miss him," said Lochte.
"I'm going to miss standing up on those blocks and racing him.
"He was the hardest racer I have ever had to go up against and I had fun and we have grown to a really good friendship because of that.
"I wish he could come back, I like racing against him. Am I going to miss him? Yes, I always like a challenge and that's why we both worked so well together, we both pushed each other."
Phelps' former coach Bob Bowman, who is leading the US men's team in Barcelona, does not think there is a chance of a return for Phelps.
"My answer is always, when I see it I'll believe it but there is no indication at this point," said Bowman. "I think that is where we will leave that one."
Lochte, a 12-time world champion, is a ten months older than Phelps but has decided to continue swimming through to the 2016 Rio Games.
He has however taken a considerable amount of time off training since the London Olympics, making cameo appearances in television programmes like 90210 and also staring in his own reality TV series 'What would Ryan do?'.
"After the Olympics I wanted to take a break from the swimming pool and I wanted to do things that other Olympians just dreamed about," added the American.
"I took a long break - I don't know if it's going to help me or not but it was worth it and I had need to do it. My body needed to recharge basically but now I'm back in the water and I'm excited to race."
Lochte will compete in the 200m individual medley, 200m freestyle, 200m backstroke and 100m butterfly events and as many as three relay races in Barcelona.
"In any other year my expectations would definitely be medalling and winning every race," said Lochte.
"I want to do that at this meet but after time off I really don't know what's going to happen. If I step on the blocks and just race tough I think I'll be alright."