Sycerika McMahon sets personal best in World Championships
Last updated on .From the section Swimming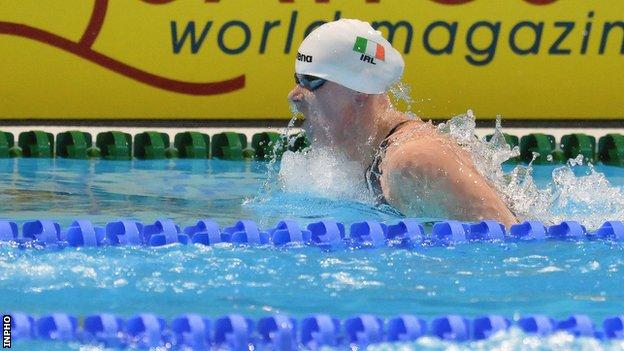 Sycerika McMahon missed out on a place in the World Championships 200m individual medley semi-finals despite setting a personal best in Barcelona.
The 18-year-old from Portaferry clocked 2:14.38 in Sunday morning's heats, putting her 18th overall.
She will also compete in the freestyle but the teenager failed to qualify for the breaststroke, her best event.
McMahon was unaware she did not have the A standard for the breaststroke within the specified time period.
The Irish swimmer claimed that no-one from Swim Ireland pointed this out to her until after the time window had elapsed.
McMahon was "devastated" after being told she would not be competing in the breaststroke at the World Championships.
Swim Ireland says it plans to ensure that every swimmer and their coach are made aware of time periods for qualification.
McMahon was just two places outside the 200m individual medley semi-finals, missing out by 0.4 seconds.