World Championships: Fiona Doyle 11th in 100m breaststroke
Last updated on .From the section Swimming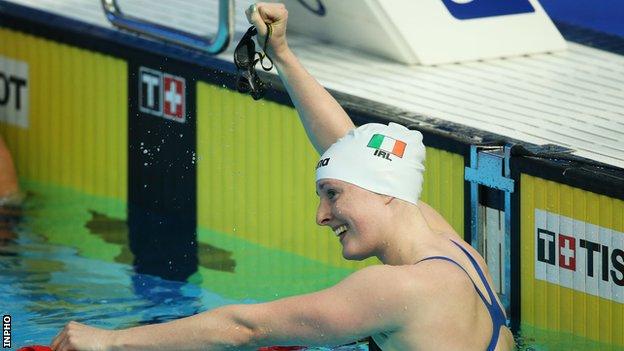 Ireland's Fiona Doyle finished 11th in the 100m breaststroke at the World Championships in Barcelona.
Doyle clocked 1:07.88 which left her 12th fastest of the qualifiers for the semi-finals before clocking 1:07.81 in her evening swin.
She set an Irish record of 1:07.66 when winning the silver medal at the recent World University Games in Russia.
Sycerika McMahon missed out on a place in the breaststroke events in Barcelona after a mix-up over qualifying dates.
Doyle would have needed to produce a new national record of 1:07.12 to have qualified for the final.
McMahon was unaware she did not have the A standard for the breaststroke within the specified time period.
The Irish swimmer claimed that no-one from Swim Ireland pointed this out to her until after the time window had elapsed.
McMahon said that she was "devastated" after being told she would not be able to compete in the breaststroke events this week.
Her personal best of 1:08.37 would have left her missing a semi-final place by .01secs although there is every possibility that the Ulster woman would have been able to produce a lifetime best in the excellent conditions in the Catalan capital.
On Sunday, McMahon missed out on a place in the 200m individual medley semi-finals despite setting a personal best in Barcelona.
The 18-year-old from Portaferry clocked 2:14.38 in Sunday morning's heats, putting her 18th overall, as she missed out on a last-16 place by .40.
McMahon will also compete in freestyle events this week.