Sycerika McMahon sets Irish record in World Championships
Last updated on .From the section Swimming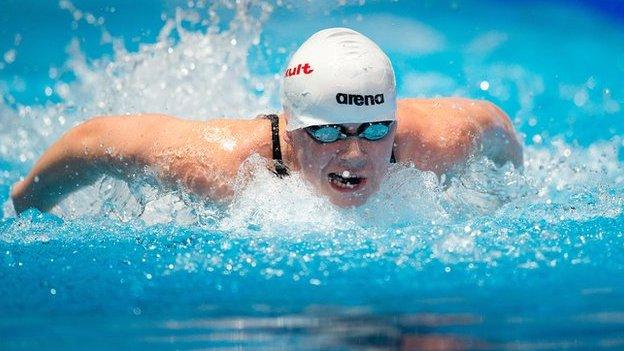 Sycerika McMahon set a new Irish 100m freestyle record in the World Championships on Thursday but failed to make the semi-finals in Barcelona.
The Portaferry teenager won her heat in 56.19 seconds, beating the previous best of 56.32 set by Bangor swimmer Clare Dawson in 2009.
However, she was 34th overall and outside the top 16 for the semi-finals.
"It was good fun. I hoped to do a personal best but I also got an Irish record out of it," said McMahon.
McMahon set a personal best of 2:14.38 in the 200m individual medley on Sunday and also failed to progress.
She was just two places outside the semi-finals, missing out by 0.4 seconds.
The 18-year-old will not compete in the breaststroke, her best event, in the championships.
McMahon was unaware she did not have the A standard for the breaststroke within the specified time period.
"Watching the 100m breaststroke was hard as I wanted so badly to be in there," she added.
"These things happen but I've got the Commonwealth Games and hopefully the Europeans next year and I'm really determined to make sure I compete in the 50m and 100m breaststroke.
"It's just sad that the championships are over for me but I think it ended on a reasonable high."