World Swimming: Willis & Jamieson miss out on medals
By Nick Hope
BBC Olympic sports reporter in Barcelona
Last updated on .From the section Swimming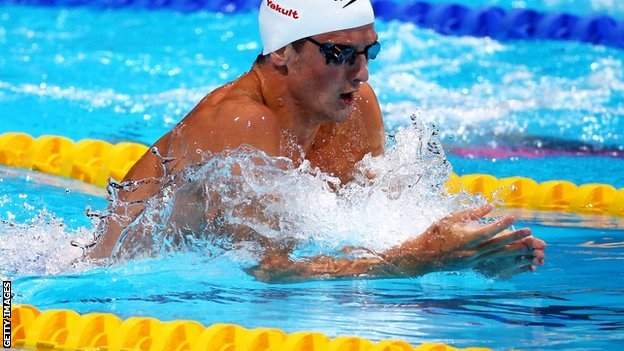 Britain's Michael Jamieson finished a disappointing fifth and team-mate Andrew Willis was fourth in the World Championships 200m breaststroke final.
Olympic silver medallist Jamieson touched in two minutes 9.62 seconds, one hundredth behind Willis, who was just 0.18 seconds off the podium.
Hungary's Daniel Gyurta took gold, Marco Koch of Germany silver and Finland's Matti Mattsson bronze.
Craig McNally finished sixth in the 200m backstroke final in Barcelona.
Jamieson, 24, damaged his bicep muscle earlier this year and almost pulled out of the British trials in June, fearing it had not healed in time.
The Scot went on to achieve an impressive 2:07.78 seconds in Sheffield, a time which would have secured him silver in Barcelona, but he feels his feat at the trials gave an unrealistic impression of what he could achieve at the World Championships.
"I couldn't have done much more there," said Jamieson.
"My real strength is that back-end 50m and it's strength and fitness that gives you that, which I don't really have here. I've just gone beyond that kind of threshold.
"In the last couple of weeks I've just been losing fitness and unfortunately this has just come at the wrong time."
Englishman Willis, who was eighth in the World Championships final two years ago, added: "Without any excuses that should have been quicker.
"I've changed my mindset this year to focus on medals and I think I held my nerve a bit better in the big race, but to miss out by that much [on a medal] is a bit gutting really."
American Ryan Lochte, an 11-time Olympic medallist, claimed two further victories on Friday to add to his 200m individual medley title on Thursday.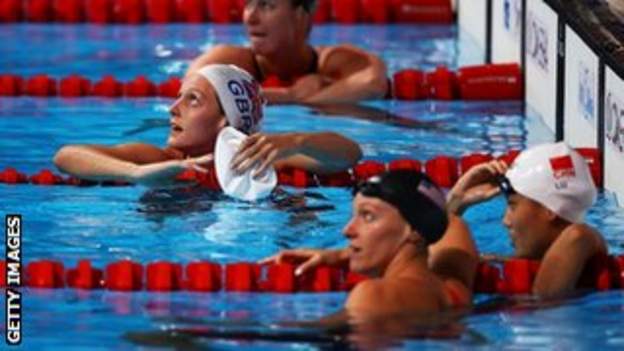 The 28-year-old, who had been concerned how his lack of training leading into the event would affect his performances, won gold in the 200m backstroke final and returned to help the US 4x200m freestyle relay team to victory over Russia and China.
Incredibly, Lochte also managed to squeeze in recording the quickest time in the 100m butterfly semi-finals, 51.48, and will be expected to duel with Olympic silver medallist Chad Le Clos of South Africa on Saturday.
"I wasn't thinking about the treble, I was just focusing on my first race and then my second and then the third," said Lochte.
"No matter what the outcome was in the first or second race, I had to pull it together for Team USA because when you get together for a relay, you don't care about the pain, you just get up there and put it together for the other guys."
Lochte added: "It was so painful and I don't want to do it again."
Radoslaw Kawecki of Poland set a new European record of 1:54.24 to finish second, with US swimmer Tyler Clary third.
Scotland's McNally produced the swim of his life by knocking over half a second off his personal best time to finish sixth in 1:55.67.
"I definitely can't be disappointed with that," he said.
"I did what I came here to do and get faster at each stage and move up the rankings, so sixth place in my first World Championships I am really happy with."
After recording a personal best of 25.69 in the 50m butterfly heats, Francesca Halsall qualified with ease for Saturday's final with the third quickest time of 25.90 in the semi-finals.
"I was a little bit nervous this morning ahead of my first swim, but this has given my confidence a big boost and I know I can do something good now," she said.
There was disappointment for Commonwealth silver medallist Michael Rock, who failed to reach the final of the 100m butterfly event.
Jazz Carlin suffered further disappointment in a disappointing meeting for the Welsh swimmer by missing out on the 800m freestyle final by 0.08 seconds.
In the women's 200m breaststroke, Russia's Yuliya Efimova avenged her 100m loss to Lithuania's Ruta Meilutyte by defeating world record holder Rikke Pedersen of Denmark, while in the women's 100m freestyle final Australia's Cate Campbell claimed gold.