Ruta Meilutyte content with 50m silver at World Championships
Last updated on .From the section Swimming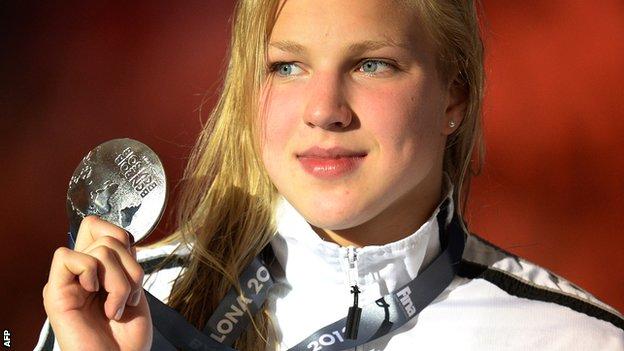 Plymouth-based swimming star Ruta Meilutyte said she was not too disappointed by losing out on a second gold medal at the World Championships.
But she had to settle for silver in the 50m final, with Russia's Yuliya Efimova beating her by 0.07 seconds.
"A silver's an achievement as well so I have to be pleased with it," she said.
"I wouldn't say I'm not happy... I'm happy with what I have.
"I will come back in two years at the next worlds with the experience of this year and I'll learn new things."
As well as Meilutyte's two world records - both set in the semi-finals of her main events - a new record was also set in the women's 200m breaststroke by Denmark's Rikke Moller Pedersen.
"It great how much the breaststroke has stepped up with records being broken in the 50m, 100m and 200m events," she added.
"It's a great honour to be a part of that."
BBC pundit and British swimming legend Rebecca Adlington said she thought that Meilutyte had the best start in the world, and added that the strength in depth of the women's breaststroke meant more world records were likely.
"There's so much depth in breaststroke and it must be so exciting the way that they are pushing each other," she said.
"They'll push those world records further and further down - who knows where it can go?"