Why did GB swimmers miss their medal target in Barcelona?
By Nick Hope
BBC Olympic sports reporter in Barcelona
Last updated on .From the section Swimming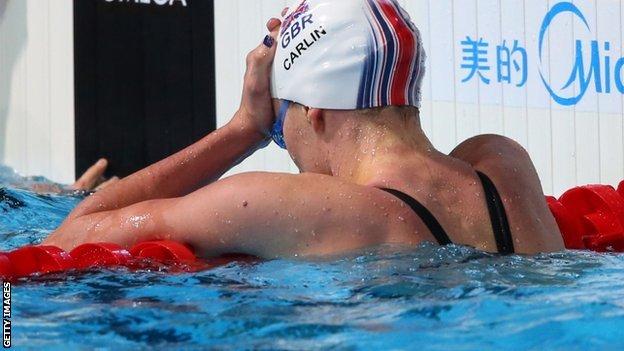 It was heralded as the start of a new era for British Swimming and a chance to banish memories of a disappointing 2012 Olympics.
It meant Great Britain finished level with Finland and Trinidad and Tobago in 20th in the medal table, with their lowest tally of medals since the 1998 Worlds in Perth, Australia.
The team may have been deprived of retired former Olympic champion Rebecca Adlington. Yet with her former coach, Bill Furniss, leading the national programme, hopes were high. The target was a minimum of three medals in Spain.
"It's obviously a huge disappointment," Adlington told BBC Sport. "We all wanted to see more, or expected more."
Ahead of the competition Furniss had admitted it could be an "extremely tough" event, however no-one anticipated Britain would struggle quite as much as they did.
He does not fear a UK Sport funding cut for a second year running, but insists that "drastic changes" will be made to the British Swimming programme over the coming months.
Here, BBC Sport's leading swimming pundits give their assessment of the British performances at the 2013 World Championships - and what should happen next.
Are GB swimmers good enough?
Missing their target for the second major event in a row begs the question: Do Great Britain's swimmers actually possess the required quality?
There were a number of near misses at the Worlds. Jazz Carlin,Andrew Willis and Halsall (50m butterfly) all finished fourth - while injury-hit Olympic silver medallist Michael Jamieson was fifth - but that is of little consolation to the team.
Despite the failures, 1980 Olympic silver medallist Sharron Davies believes there is still plenty of potential in British swimming ahead of the 2016 Olympics in Brazil.
She said: "The young guys that came through were exciting. There were four or five of them where this was their first senior meet and they all made world finals. To do that on a senior debut is very promising for the future."
Although 13 of the Team GB swimming team from last summer's Games were not part of the squad in Barcelona - some due to retirement, some to lack of form - that still left 18 who were in the squad which largely underperformed in London.
Furniss believes London 2012 had a major impact. "The swimmers were disappointed, gutted and some of them even distraught after the London Olympics," he said.
BBC Radio 5 Live pundit and former world champion Karen Pickering also says there was a difference between the swims of some of the London Olympians and several of the debutants.
"There are a lot of athletes who felt they had to come back strong and felt the pressure because they know that their funding is dependent on it, which they haven't had to worry about in the past," she said.
"The younger ones like James Guy, Dan Wallace and Craig McNally [who all reached finals in their senior international debuts] don't know any different. It's just brilliant and they're racing with no fear."
Meanwhile, Davies believes it is time "kick" the fear and memories of London 2012.
"We need to stop our guys and girls being scared of people," she said.
Does the GB squad lack leaders and character?
"I feel like they've lost all flair and the passion to be innovative. They are just a bit vanilla," says Pickering.
With former major international medal winners Liam Tancock, Gemma Spofforth, Joanne Jackson and David Carry no longer part of the squad, the team is missing not only some of its highest-profile athletes, but also its biggest personalities according to Adlington.
"What I've noticed this week is how much fun the Americans have," said the four-time Olympic medallist.
"They are lively, they are excited, they are happy and that's the thing that's changed with the British team this year.
"Because so many people are new, everyone doesn't know each other."
But Pickering thinks the problem goes deeper than that.
"I know what they're going to say in interviews before they speak - and that's a real shame. I want someone to say something interesting and honest but there's no spark," she said.
"If you look at the swimmers you've seen this week, take Missy Franklin - who won a record six gold medals - for example, she's slightly bonkers in a brilliant way.
"Ryan Lochte, an 11-time Olympic medallist, is never going to be called vanilla and Chad Le Clos has a great personality. There's just no flair in our team at the moment.
"Fran Halsall historically has had something different about her and her doing well helps because she's bubbly and bouncy. But she didn't get a medal until the last day so it didn't have much impact on anyone else on the team. We are missing a little spark."
London Olympic silver medallist Jamieson has won many admirers for not only his achievements last summer but also his honest, self-critical analysis of his performances when results have not gone his way.
He and Halsall are seen as potential 'leading figures' within the British team heading towards the 2016 Rio Games.
Adlington has, however, also heard positive things about Willis.
"Bill [Furniss] has told me he's completely changed and I loved hearing that because Andrew is funny but he's never had a chance to be the joker of the team because he's been swamped by all of the bigger personalities," she said.
"Now we need to see these guys coming through."
What impact will the performance in Barcelona have on funding?
British Swimming were awarded around £25m for the four-year cycle leading into the London Olympics. But after failing to hit their minimum target of five medals, UK Sport axed £4m from their budget en-route to Rio.
Each funded Olympic and Paralympic sport is subject to annual reviews by the UK Sport board which can potentially decide to increase or decrease their award depending on the performance of their athletes and governing body.
It is thought that British Swimming will avoid further financial penalties for the failures in Barcelona as Furniss and performance director Chris Spice only took up their roles earlier in the year.
Spice said: "UK Sport reset our targets. They are fully aware that we have only just started and they understand that our leadership team isn't even in place yet, so from our point of view this was an assessment meet.
"It was a brutal assessment of where we are. As soon as we get our leadership team on board we'll be looking at what we're going to do at the start of next year to make a real difference, but what we do know is things cannot stay the same."
What's the action plan?
Together with Spice, Furniss has promised a major shake-up of the way the programme is run.
"Bill Furniss says he wants our swimmers racing more abroad," said Adlington.
"There aren't lots of strong competitions because there isn't enough depth in the UK. The Mare Nostrum, three high-profile races in France, would be a great experience for some of the swimmers.
"I think Furniss and Spice are going to put some brilliant things in place and it's just a shame we couldn't have done this straight after the Olympics."
Six-time world champion Mark Foster says he would like to see British leaders revise their approach on athletes being based abroad.
At present, those who choose to base themselves outside the UK are denied any funding and effectively go it alone, such as British record holder Adam Brown, who is based in Auburn, US, and Dan Wallace, 20, who was sixth in the 400m individual medley, who trains out in Florida with Ryan Lochte.
"If we have someone who wants to go out to America and swim, then support them, don't take their funding away," said Foster.
Further details of the British Swimming shake-up are expected to be revealed in the coming weeks, which will also include a key decision on the future of two Intensive Training Centres [ITCs].
Stockport's ITC closed after London 2012 as the sport looked at ways to cope with the reduction in funding.
There are currently four ITCs, but the restructuring or possible closing of bases in Swansea and Stirling are said to be under consideration.
Whatever the fine details, the key message from Spice and Furniss will be that the future will be more focused, with the ultimate aim of Team GB winning more medals in Rio than it did in London.