Ryan Lochte says TV work hurt World Championships bid
By Nick Hope
BBC Olympic sports reporter
Last updated on .From the section Swimming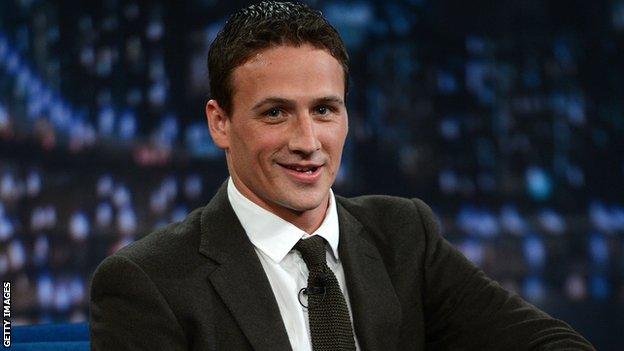 Eleven-time Olympic medallist Ryan Lochte may postpone his TV career in order to step up training and improve his Rio 2016 prospects.
However, he feels he could have achieved more.
"I might have to put everything on hold. I didn't like how I swam at this meet," he told BBC Sport.
Ahead of the World Championships in Barcelona, the swimmer said he was not convinced he would be challenging for medals having taken so much time off.
His two titles, in the 200m individual medley and 200m backstroke, were hard fought - with the latter coming on a night where he also won 200m freestyle relay gold.
However, he was upstaged by US team-mates Missy Franklin, 18, who won a record six golds and Katie Ledecky, 16, who secured four titles and set two new world records.
"I'm going to get back in the water right away," he said. "I'm not going to take a break, I don't want one.
"Now is the time I have to put all of my focus into swimming and get ready for 2016."
After starring in US hits 'What would Ryan do?' and 'Beverley Hills 90210', he told the BBC in December last year that he could quit his base in Florida and relocate to Los Angeles. But that may now be delayed until after the next Olympics.
"LA would be the right place [for a TV and movie career] and I had a lot of fun doing the whole acting gig, but I have to focus on my swimming first.
"I want to get out of Gainesville [Florida] and try something different.
"My last Olympics had ups and downs, but I came out of it with five medals and that means everything to me.
"But do I think I could have done better? Yes.
"Hopefully in the next few years I can fix that and have those perfect swims in Rio."