British Swimming chiefs promise to make changes after Worlds
Last updated on .From the section Swimming164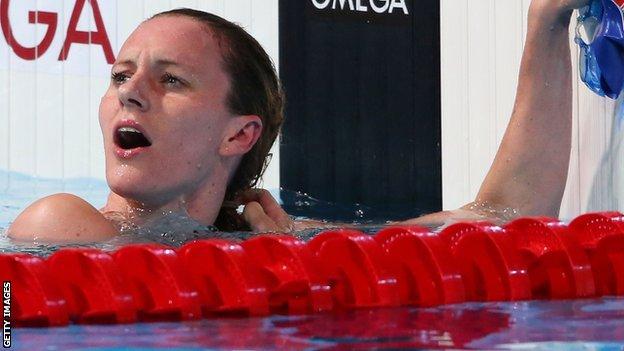 British Swimming's national performance director Chris Spice and head coach Bill Furniss insist they can make the changes required to win medals.
It was GB's lowest medals tally since the 1998 Worlds in Perth, Australia.
Furniss said: "It's been disappointing because we came here expecting to do much better than we have."
GB finished level with Finland and Trinidad & Tobago, 20th in the medal table in Barcelona.
It was the first major international meet since the new leadership team of Spice and Furniss took up their roles.
In last year's London Olympics, Team GB won just three medals when they were aiming for five.
The team may have been deprived of retired former Olympic champion Rebecca Adlington in Barcelona. Yet with her former coach, Bill Furniss, leading the national programme, hopes were high. The target was a minimum of three medals in Spain.
"It's obviously a huge disappointment," Adlington told BBC Sport. "We all wanted to see more, or expected more."
Furniss added: "We've certainly tried all week to do much better than that and we've done the best we can. It's very much an indication of where we are now.
"For the first four weeks of my job, Chris and I were looking at the restructure. We have looked at everything we do, all over Britain.
"There has been a massive amount of work to get a new performance management team in.
"Once that's over, my job will be with the coaches. I'll be on deck with the coaches, I'll be in their ear and I want to improve our conversion rate. I definitely see that as my primary role.
"It's a starting point for Chris and I. We know it's a challenge and we've got to change some things drastically."
Spice, who joined British Swimming from British Basketball in April, said: "From our point of view this was an assessment meet. It's a brutal assessment of where we are," he said. "Our impact hasn't even begun yet.
"As soon as we get our leadership team on board, we'll be looking at what we can do in terms of the front end next year to make a real difference but what we do know is that things can't stay the same.
"We've reset our UK Sport targets and they are fully aware that we've only just started in the post. They also understand that our leadership team is not even in place yet."