Transplant Games: Olivia Ball-Hymns eyes more success
Last updated on .From the section Swimming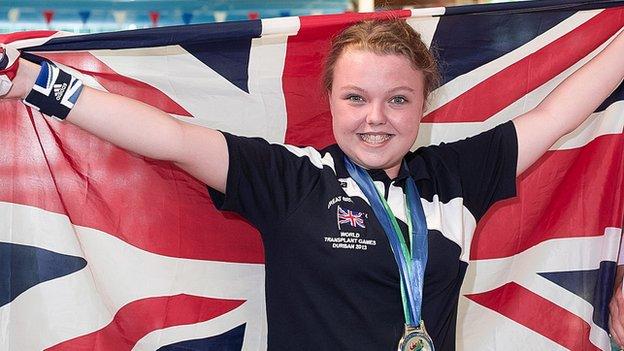 Newquay teenager Olivia Ball-Hymns said she would turn her attentions to the British Games after a superb display at the World Transplant Games.
The 14-year-old, who had a life-saving liver transplant when she was nine, won the 50m freestyle and breaststroke events and silver in the backstroke.
"I'm so unbelievably happy and excited to have won three medals," she said.
"I haven't had much time to rest as I'm going straight to the British Games but hopefully I can win medals there too."
She added: "Attending the World Transplant Games was an amazing experience. The only time I'd ever been abroad before was to Belfast, so going all the way to South Africa was incredible."
The British Transplant Games are being held in Sheffield this weekend.
The World Transplant Games are held bi-annually, with more than 1,500 athletes of all ages representing 55 countries. All the participants have received a life-saving organ transplant and the event aims to promote the benefits of and highlight the need for organ donation.