Duel in the Pool: Ryan Lochte to face Europe in Glasgow
By Nick Hope
BBC Olympic sports reporter
Last updated on .From the section Swimming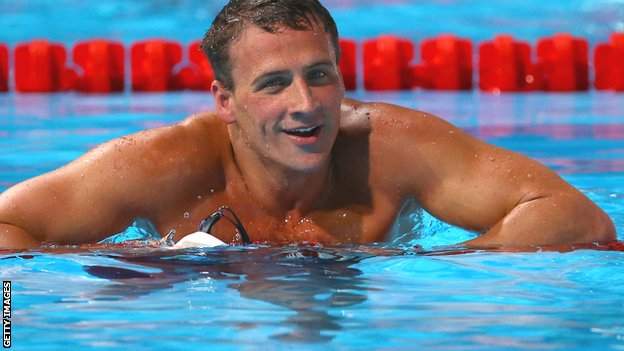 Olympic champions Ryan Lochte and Katie Ledecky will compete for the United States at the Duel in the Pool in Glasgow on December 20-21.
The biennial event, swimming's equivalent of golf's Ryder Cup, pits the Americans against a European team.
Both previous stagings of the event in its current format were won by the USA.
Twelve British swimmers, including London 2012 silver medallist Michael Jamieson plus Francesca Halsall and Hannah Miley, will race for Europe.
Duel in the Pool 2013 will be held at Tollcross International Swimming Centre, the host venue of the Commonwealth Games swimming next year.
After three duels between the USA and Australia, Europe first competed in 2009, with the Americans easing to a 185-78 victory in Manchester.
They were also dominant two years later, winning 181½-80½ in Atlanta.
However, this year's European squad is said to be the 'strongest ever', featuring Florent Manaudou of France and Dutch swimmer Ranomi Kromowidjojo, both Olympic champions.
British Swimming head coach Bill Furniss is confident the 37-strong team, also including recent World Cup silver medallist Sophie Allen, will be much more competitive.
"The European Allstars features by far the strongest line-up we've ever seen," he said.
"Both teams include a multitude of Olympic and world champions and medallists, and therefore the head-to-head promises to be a dramatic encounter."
Olympic gold medallists Conor Dwyer, Shannon Vreeland, Tyler Clary and Jessica Hardy are all included in a strong American line-up.
"We've assembled a nice mix of veteran performers and rising stars on the US roster, and we look forward to racing some of the top swimmers in Europe," said USA Swimming national team director Frank Busch.
"The Duel in the Pool has become a must-watch event for swimming fans around the globe, and USA Swimming is excited to compete against a talented European team in Glasgow."
British swimmers in European Allstars line-up:
Sophie Allen, Jazmin Carlin, Francesca Halsall, Hannah Miley, Lauren Quigley, James Guy, Michael Jamieson, Craig McNally, Roberto Pavoni, Robbie Renwick, Chris Walker-Hebborn, Andrew Willis.
Key European Allstars swimmers:
Konrad Czerniak (Poland), Florent Manaudou, Yannick Angel, Fabien Gilot, Jeremy Stravius, Camille Muffat and Fred Bousquet (all France), Mireia Belmonte-Garcia (Spain), Lotte Friis and Jeanette Ottesen-Grey (both Denmark), Ranomi Kromowidjojo (Netherlands).
Ryan Lochte, Katie Ledecky, Conor Dwyer, Shannon Vreeland, Tyler Clary, Jessica Hardy, Caitlin Leverenz, Anthony Ervin, Eugene Godsoe and Cullen Jones.