Duel in the Pool: Ryan Lochte injures knee in fan accident
Last updated on .From the section Swimming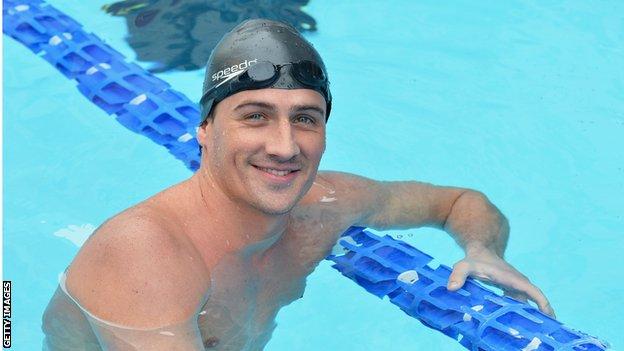 Olympic champion Ryan Lochte may miss December's Duel in the Pool in Glasgow after injuring his knee when a teenage fan knocked him over.
Lochte, 29, suffered a tear and a sprain to his knee ligaments on Sunday when an enthusiastic girl ran at him.
"Thanks everyone so much for the love... will be back at it soon," Lochte said on Twitter.
The Duel in the Pool, swimming's equivalent of golf's Ryder Cup, pits a United States team against Europe.
Lochte suffered the injury in Florida, when he fell and hit his knee on the kerb after colliding with the fan.
"As a result of a freak injury caused by an unexpected fan encounter, Ryan has suffered a torn MCL and an ACL sprain and will be taking a break from training and competition," a statement from Lochte's publicist said.
"His medical team expects him to make a full and speedy recovery."
The event will take place on 20-21 December, and although medial collateral ligament tears usually take an average of six weeks to recover from, the additional damage to the anterior cruciate ligament is likely to delay Lochte's recovery.
Lochte won the 200m backstroke title at the 2008 Beijing Olympics and the 400m individual medley gold at the London Games. He was also member of the 4x200m freestyle relay team which has won gold at the last three Olympics.
Twelve British swimmers, including London 2012 silver medallist Michael Jamieson plus Francesca Halsall and Hannah Miley, will race for Europe in the Duel in the Pool 2013, which will be held at Tollcross International Swimming Centre, the host venue of next year's Commonwealth Games swimming.
Both previous stagings of the biennial event in its current format were won by the USA.