Keri-Anne Payne and Elizabeth Simmonds lose funding for 2014
By Nick Hope
BBC Olympic sports reporter
Last updated on .From the section Swimming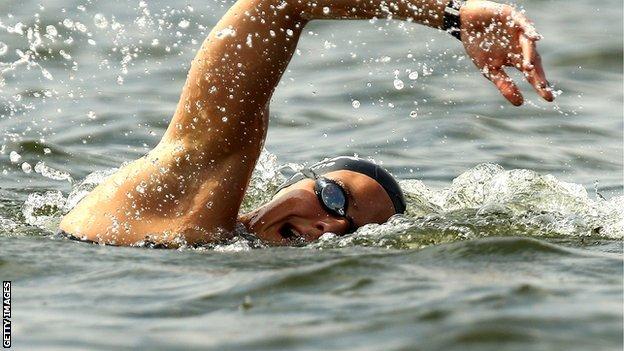 Former world champion Keri-Anne Payne and European gold medallist Elizabeth Simmonds have both lost their personal funding for 2014.
Simmonds failed to qualify for this year's World Championships, while Payne was 14th in the 10km open water event.
Only 62 swimmers will get funding, compared to 97 who were supported in the build-up to London 2012.
Swimming received a £4m cut to its Olympic funding by UK Sport after failing to meet its medal target.
Payne, 25, won Olympic silver in Beijing 2008 but considered retirement after finishing fourth in London last year. She won the 2009 and 2011 World Championships.
Simmonds, 22, won gold medals at the 2008 and 2010 European Championships.
She picked up two silver medals and a bronze in the penultimate stage of the World Cup series in Tokyo over the weekend.
In a change to its strategy, British Swimming is now funding athletes based outside the UK and therefore Adam Brown is included for the first time.
The athlete personal awards (APA) are split into podium funding and podium potential funding categories.
Podium funding supports athletes who have the potential to win a medal in 2016, while podium potential support is an investment in athletes who can win medals in 2020.
British Swimming national performance director Chris Spice said: "This programme of APA funding is designed to invest in future performance.
"It will provide valuable support to athletes for their continued preparation and development for success in 2016 and beyond."
Click here to read the full list of swimmers who will receive funding.