Michael Jamieson helps Europe edge ahead in Duel in the Pool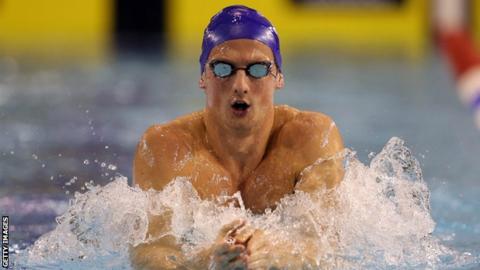 Scotland's Michael Jamieson continued his return from a recent health scare to win the 200m breaststroke at the two-day Duel in the Pool in Glasgow.
Jamieson's heartbeat became irregular last month during training but he returned to action at last week's European Short Course Championships.
The Olympic silver medallist, 25, helped the European Allstars into a 68-54 lead over Team USA.
"I can't believe how many people are here - it's great," he said.
"This will also be the venue for the 2014 Commonwealth Games and it's great to sample what the environment is going to be like."
After winning his race in 2.01.83, Jamieson shrugged off his recent fitness worry and said: "It's quite common in OAP's, just not really particularly common in athletes but I was in great hands and to be honest it didn't really faze me at all.
"I was pretty calm about the whole thing and was talked through the whole procedure beforehand.
"I only missed two or three days of training so it didn't really affect preparation too much and I'm back to 100%."
Fellow Scot Craig McNally was also given strong support in the men's 200m backstroke, but finished fourth while Hannah Miley finished second last in the women's 200m breaststroke.
The American team started as favourites to triumph at the Tollcross Swimming Centre, having gained comprehensive wins over the Europeans in Manchester (2009) and Atlanta (2011).
But the Europeans enjoyed an impressive start to the women's 400m individual medley with Spain's Mireia Belmonte winning, team-mate and British Olympian Aimee Willmott finishing second while America's Caitlin Leverenz grabbed third place.
Although America's Conor Dwyer won the men's open 400m individual medley, the Europeans continued their dominance in the 100m freestyle won by Sweden's Michelle Coleman and France's Yannick Agnel, while Ukrainian Daryna Zevina won the 200m backstroke.
British teenager James Guy also delivered an encouraging display, finishing fourth in men's 400m freestyle, which was won by American Michael Klueh.
The 4x100m medley relays saw Europe's women - including Britain's Fran Halsall - come out on top, while USA's men won their race.