Ruta Meilutyte and Jon Rudd: Swimming's perfect partnership?
By Dave Gibbins
Sports Reporter, BBC South West
Last updated on .From the section Swimming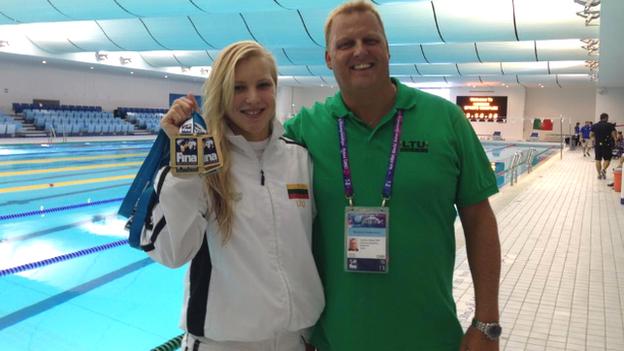 Does the perfect partnership exist?
In romantic or friendship terms, maybe. But in sporting terms, the answer is definitely yes.
If you are in any doubt, then visit Plymouth College where you will find England's top swimming coach honing the talent of one of the world's best swimmers.
You'd be hard pressed to find a more successful coach-athlete combination in the sporting world than Jon Rudd and Ruta Meilutyte.
These two have conquered in the pool at the 2012 Olympics and 2013 World Championships in Barcelona, notwithstanding a series of triumphs at other meetings and championships around the world.
Rudd was not coaching the Great Britain team in London, but advising the Lithuanian squad in which Meilutyte stormed to prominence as a 15-year-old breaststroke swimmer.
Meilutyte - from Kaunas, Lithuania's second biggest city - stunned the world of swimming with her charge to the gold medal.
Her mentor proved a point, while his prodigy was doing her nation proud.
"Jon is like a father-figure to me," the 16-year-old told BBC Spotlight.
"I rely on him totally as far as the swimming goes and trust him 100%. He's my driving force and he gets the best out of me.
"He works me hard which I don't mind, because if you want to be the best, then you have to forsake some of your social life and devote yourself to becoming number one. I don't want that to change."
Rudd was born in another seafaring city - Hull - and is now entering his 25th year with Plymouth Leander Swimming Club, which is based at the city's College and at the lavish Plymouth Life Centre.
He has refused to comment on his non-inclusion with the GB party in 2012. Two years on, he will lead the England team into the 2014 Commonwealth Games in Glasgow.
There, he expects to have seven or eight swimmers representing various Commonwealth countries from his group at the college including 18-year-old Geoffrey Butler for the Cayman Islands, Charlotte Atkinson, 17, for the Isle of Man and 16-year-old Jamila Lunkuse for Uganda.
In fact, Rudd has an elite group of swimmers numbering around 60 who gather twice a day, Monday to Friday, from 05:30 to 08:00 and again at 16:30 to 18.30 for a second session of training, fitted in around their meals and education.
His star pupil of course is Meilutyte; she won a total of 14 gold medals in 2013 and broke three world records, two at the World Championships in Barcelona in the 50m and 100m breaststroke events and the other at the World Cup in Moscow.
The pair think they can achieve even more leading up to the 2016 Olympics in Rio, which is a frightening thought.
"I don't see any reason why Ruta can't better her achievements from last year," Rudd told BBC Spotlight.
"She's improving all the time and she's not at her peak yet. We want to win every race we take part in and it's my job to make sure she's focussed, hungry and wanting more.
"We then let her rivals do the worrying and believe me, they worry when Ruta is next to them."
So too is Rudd's army of talent, part of which will be unleashed in this year's Commonwealth Games.
If he is successful, will his next step also be Rio as coach of Great Britain?