Commonwealth Games: Aimee Willmott encouraged by form
Last updated on .From the section Swimming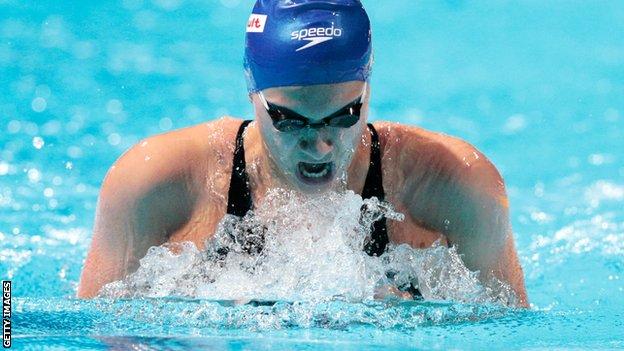 Middlesbrough swimmer Aimee Willmott says her dream of winning an Olympic medal is "becoming more realistic".
The 20-year-old's time of four minutes, 38 seconds in the 400-metre individual medley did not qualify her for the final.
But at the recent Flanders Cup event in Antwerp, she swam 4:33 to break her own English record, before lowering her 200-metre best by 2.5 seconds to 2:10.
"I'm excited by these big improvements. It certainly changes things," she said.
"I've always thought I could win an Olympic medal, but it's suddenly become a lot more realistic rather than just being a dream.
"I think I'm only just realising that I can do it, which is actually quite scary."
Willmott has spent the last three weeks in altitude training in Sierra Nevada, Spain and travelled straight to Belgium for the competition.
She rounded off a spectacular display by also swimming a personal best in the 400m freestyle.
Added to the three events she raced in at Flanders, Willmott is also hoping to qualify in both the 200m freestyle and 200m butterfly for this summer's Commonwealth Games in Glasgow.
"I've worked so hard on my technique this winter, rather than just focusing on fitness, and it's paying off," she told BBC Tees.
"A combination of that, the altitude work and trying some different tactics like going out a little slower in races has really brought me on.
"The Commonwealths is a big target and a real opportunity for me to get my first major medal."