British Swimming to appeal Olympic funding cuts
Last updated on .From the section Swimming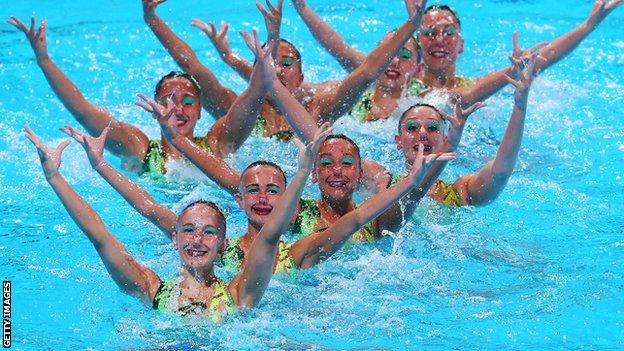 British Swimming has notified UK Sport of its intention to appeal the withdrawal of Olympic funding from women's synchronised swimming and water polo.
UK Sport announced the move last week, with basketball and weightlifting also losing their Olympic support.
British Swimming has requested to make representations to the UK Sport board.
Chief executive David Sparkes said it was vital the sports do not become "a chapter in a history book".
He added: "Both sports have not only demonstrated real performance improvements leading up to 2012 - which was reflected by UK Sport last year through increased funding - but they have also both made further progress in 2013 as acknowledged by UK Sport.
"They have also driven interest and participation with clubs across the country having to adjust to much greater demand for places."
UK Sport chief executive Liz Nicholls said last week it would be "high risk" to continue funding sports with little chance of winning a medal by 2020.
Around £350m will be spent supporting Britain's best medal prospects at both the Olympics and Paralympics.
Those sports that lose their funding are able to reaffirm their case through a performance assessment of their potential to perform in Rio 2016 and Tokyo 2020. That will then be reviewed by the UK Sport board.
"UK Sport has clearly demonstrated a wish to fund sports that can medal in Tokyo and we're confident of making a strong case of this outcome," added Sparkes.