British Swimming to take legal action over synchro funding cut
Last updated on .From the section Swimming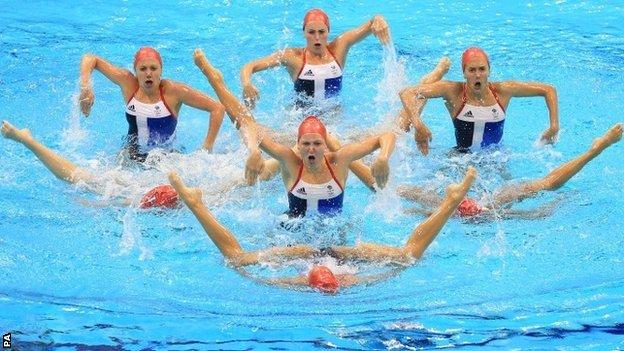 British Swimming will take legal action against UK Sport's withdrawal of funding for synchronised swimming.
The case will now be heard by an independent dispute service.
Despite saying that it would also appeal against the removal of funding for women's water polo, British Swimming has opted against doing so.
"We are keen to appeal [against] the case for synchro," said British Swimming chief executive David Sparkes.
"We still feel the strategy adopted by UK Sport in terms of team sports needs further review. We will be seeking to influence this for water polo and the future of all team sports."
UK Sport announced in February that it was withdrawing £4.3m of funding for synchronised swimming and £4.5m for water polo because it would be "high risk" to invest in sports with little chance of winning a medal at the next two Olympics.
Sparkes described the decision not to reinstate synchronised swimming's funding as a "very dark and sad day for British sport".
Weightlifting and basketball were the other Olympic sports to have their funding withdrawn, although weightlifting later won an appeal to UK Sport.