Francesca Halsall: Monopoly, cheeky betting and a fear of water
By Owen Phillips
BBC Sport
Last updated on .From the section Swimming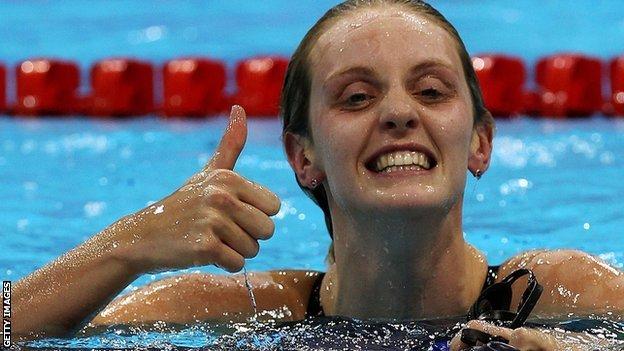 Francesca Halsall's infectious enthusiasm is as glaringly obvious as her talent.
One of the world's best swimmers is a bundle of "excitable" energy as she eagerly awaits this week's British Championships.
The 23-year-old sprinter's love of her sport, and the "fantastic experiences" it has given her, provides the drive and focus that sees her hold seven British records and fistfuls of medals from major competitions.
But she is also acutely aware that there are times she needs to rein in her competitive streak.
"My mum and dad used to make little bets with me," Halsall told BBC Sport. "One of the first ones was that I really wanted my ears pierced when I was about 10.
"I was swimming at a competition and my dad said 'There's no way. You're not having your ears pierced', but then he said 'I tell you what, if you do well and get a medal you can', so off I went, swimming as fast as I could and I won a medal. I got my ears pierced.
"They should have learned not to make bets with me then."
The incentive scheme worked and continued, and a few years later Halsall's canny knack of getting what she wants surfaced again.
The parental pride Andrew and Diane felt at seeing 15-year-old Fran become the youngest member of the England swimming team to qualify for the 2006 Commonwealth Games in Melbourne also came at a cost.
"They said 'You can have a tattoo if you qualify', thinking 'she will never qualify for the Commonwealth Games' but I qualified and I got a tattoo, so they have kind of learned the lesson now."
Little has changed as far as Halsall's desire to be the best is concerned, although now it is boyfriend Alastair Wilson - a GB hockey player and fellow Olympian - who is often the one to suffer.
"I have to win at everything, it's quite funny," Halsall said. "But when you're losing at monopoly and getting angry you do think 'I really have to let this go!'"
The win-at-all-costs mentality has served her well, but the two-time Olympian had a less than auspicious start to life in the pool when she was growing up in Southport.
"When I learned to swim I hated it," Halsall said. "I didn't like putting my face in the water.
"I hated not being able to breathe and I am still really bad at breath holding to this day. I didn't like having my face wet and feeling really claustrophobic. It took me a while to get over that.
"I stopped swimming for ages and my mum says I got home from school one day and said 'I want to go to swimming lessons and want to be part of a club', so they took me along and it ended up snowballing from there.
"It feels like yesterday but now I have been to two Olympic Games, two Commonwealth Games, so it's a bit surreal.
"I started when I was eight and it took me a couple of years to get the hang of and then all of a sudden it just clicked and I thought 'I'm actually OK at this. I really enjoy it and I am getting better and better'.
"Every time I raced I was getting a bit faster and I was winning trophies and medals. That's always good fun when you are a kid."
The fun factor was, and remains, crucial.
"I still don't really see it as a job. I still see it as fun. I feel really lucky and blessed the fact I do something that is fun as my 'kind of job' every day.
"I have had so many life experiences through being an athlete and a swimmer. It is just fun. I don't like to take it too seriously because when I do I think it will start to become more of a chore."
And the enjoyment has helped ensure the medal-rush has continued.
She explained: "Sometimes when you are at a big competition you can get lost and caught up in the moment that 'this is really important' and 'I have to be serious to swim really fast'.
"But for me being relaxed and enjoying it is when I have swum best and the times when I have lost sight of that is when I have not been as good as I wanted to be.
"I enjoy going away and racing, seeing how fast I can go against the best girls in the world."
It's fair to say she's going pretty well.
She has medals from all the major meets and games - apart from the Olympics. Coming so close in London when she finished fifth in the 50m freestyle final and missed out on a medal by 0.08 of a second still rankles.
The crushing disappointment at narrowly missing out on a top-three finish has focused her mind more than ever on Rio in 2016.
Last year she earned Great Britain their only swimming medal of the World Championships in Barcelona, winning bronze in the 50m freestyle.
With so much she still wants to achieve - "I could have two or three more Olympic Games in me" - Halsall has not given much thought to life after swimming.
But she is pretty convinced that coaching is not for her because "it's hard work getting up so early and dealing with athletes like me!".
Halsall's coach, national sprint coach James Gibson, is happy with her progress and also appreciates the need to mix things up - that is one of the reasons why she will be adding the 50m backstroke to her repertoire at the British Championships.
"Every athlete needs to be challenged," Gibson told BBC Sport. "They are human beings and you cannot ask someone to do something for 15 years and tell them that they should be motivated to do the same stuff every day.
"As coaches it is our job to challenge and inspire them and give them different challenges. This year Fran is ranked top five in the world at three events, backstroke, butterfly and freestyle.
"One of my things was to get her better at backstroke, learn different techniques and models. That challenges and stimulates her and ultimately by keeping her interest and input high, that will help her fly and freestyle."
The self-confessed "daddy's girl's" best hope of Olympic glory would still seem to be in the 50m freestyle.
If that happens in two years' time, the endless early mornings - both for her and her dad - will be even more worthwhile.
"Dad would take a sleeping bag and have a nap in the car or go to the gym because we were 45 minutes away from the pool," Halsall said. "He'd go off to work for the day and pick me up from evening training on his way home from work.
"He was always so confident in me and my ability. He never pushed me to do anything I didn't want to do. I was always a real daddy's girl."
And if the medal collection is completed in Rio, whether Andrew and Diane have learned their lessons or not, then there may well be a little family bet riding on it.