Glasgow 2014: Liam Tancock targets Commonwealth return
Last updated on .From the section Swimming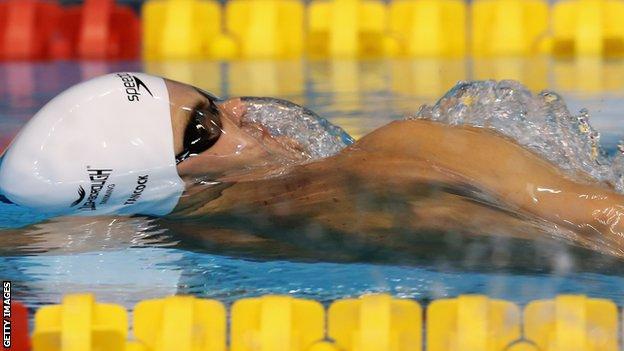 World 50m backstroke record holder Liam Tancock is aiming to put his injury-ravaged 2013 behind him by qualifying for the Commonwealth Games.
The 28-year-old, from Exeter, races in the 100m backstroke for the first time in a year at next week's British Championships in Glasgow after recovering from a shoulder injury.
He needs to qualify in the 100m backstroke to be selected for the 50m.
"This season's been an unknown," Tancock told BBC Sport.
Having missed the opening four months of the season Tancock, who has won gold in the 100m backstroke at the last two Commonwealth Games and 50m gold in 2010, says he has changed his training regime.
"I've had to change my training routine drastically," he added.
"I've cut out the things that I can't do and focused on the things I can do and doing them well.
"That adds to the unknown really, and makes it more exciting at the same time."
The 2009 and was out of the water for most of 2013 after a mystery shoulder injury.
"It took about eight or nine months to initially figure out what the problem was after loads of different injections and seeing different specialists," said Tancock.
"I has MRI scans and even surgeons couldn't really work out what the problems was.
"I ended up going down to the British Olympic Association at Bisham Abbey to their intensive rehab unit.
"They found out what the problem was, fixed me up and put a plan in place to move me forward."
And while Tancock hopes to qualify for Glasgow 2014, his ultimate target is the next Olympics.
"My long-term goal is Rio 2016, this is just a little stepping stone to find out where I am and how the injury has affected me over the last year," he added.
"I want to go to the Commonwealth trials next week and compete fast and make the team."