Ross Murdoch sets new 50m breaststroke British record
Last updated on .From the section Swimming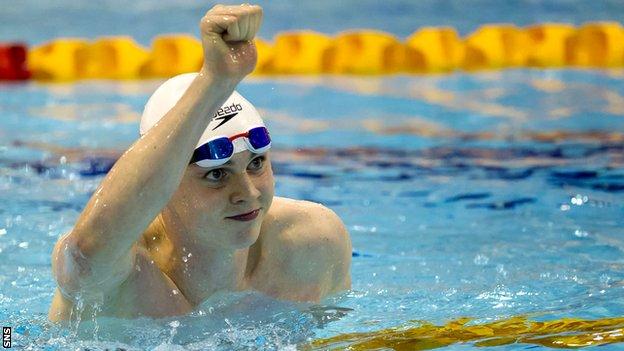 Ross Murdoch broke the British record and recorded the fastest time in the world this year in winning the 50m breaststroke final at the Scottish National Open Championships in Glasgow.
The University of Stirling swimmer, who finished in 27.28, was one of six finalists who achieved the Commonwealth Games qualification time.
Murdoch said: "I came into the meet unrested, so it is a big relief.
"The British record was in my mind having come close in January."
Mark Tully (East Lothian Swim Team) took silver, while Joe Welstead (Stirling Swimming) won the bronze medal at Tollcross International Swimming Centre.
"I think there were about three or four of us in the final who are in the top 20 in the world at the 50m distance, so it's always really competitive and we drive each other on," added Murdoch.
Defending 400m IM champion Hannah Miley (Garioch) insisted it had not been easy as she took gold in her favoured event in 4:35.48, well inside the qualification time for Team Scotland.
"It was the first time this season that I felt my usual self during the event," she said.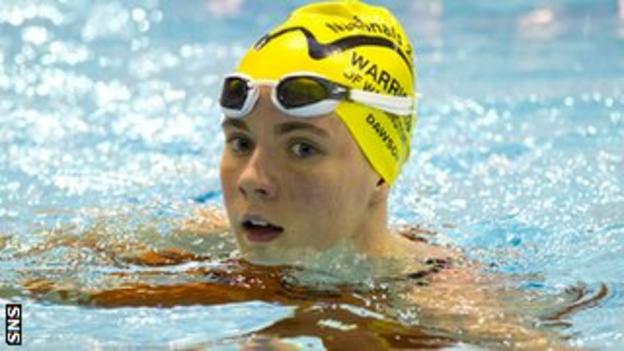 "I've tried a lot of different things in the past six months and, at the tail end of last year, I competed in 72 races over a four-week period, which to be honest was a bit mad.
"I'm feeling good and know I've got more to give, so it's all about going back to training, putting in the mileage and being in the best possible shape to compete in July."
Cameron Brodie was delighted to defeat University of Stirling team-mate Lewis Smith in the 200m butterfly final with a fingertip finish, both within the qualification standard.
"That was a stressful race, but I'm delighted," said Brodie. "I was a bit too hyped up for the final and went out far too fast, I knew Lewis was coming back at me, but somehow managed to hold on - it's a great feeling."
Kathleen Dawson also posted a Team Scotland qualification time in winning the 50m backstroke final.
Stephen Milne (Perth City) edged out Craig Hamilton (Warrender Baths) in the men's 1500m freestyle, both their times being within the qualification standard.