Swimming: Michael Jamieson gives British gold medal to boy
By Nick Hope
BBC Olympic sports reporter
Last updated on .From the section Swimming
Michael Jamieson gave away his British championship 200m breaststroke gold medal to a young fan after Thursday evening's victory in Glasgow.
The 25-year-old Olympic silver medallist was posing for photos with young swimmers after his presentation when he handed over the prize.
Jack Commins, 13, from North Ayshire swimming club, was the lucky recipient.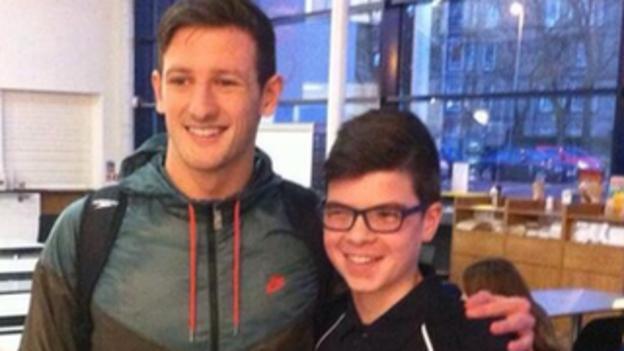 "I just thought it would be a nice gesture and they were pretty excited about it," Jamieson told BBC Sport.
Commins said: "I asked him for an autograph and he was very happy to give me it. I asked him if I could see his medal and he went through his bag and brought it out and said 'you can keep it if you like'.
"I said: 'Are you serious?' and he said 'sure'.
"My dream has came true. Michael is my sporting hero. He was a true gentleman who took the time to talk to me and I will treasure that moment forever."
Five-time US Olympic champion Ryan Lochte is renowned for giving away medals, but the Scot played down the comparison and said it was a spontaneous decision.
"It's not something I thought too much of, there were a few kids from some of the local clubs just asking for photos and they seemed really excited to be here watching the swimming," he explained.
"It's nice to see some young swimmers excited about coming to watch an event like this. If there are youngsters involved in the sport and getting the enjoyment and excitement from watching events like this then that might just spark something for them to pursue this as a career.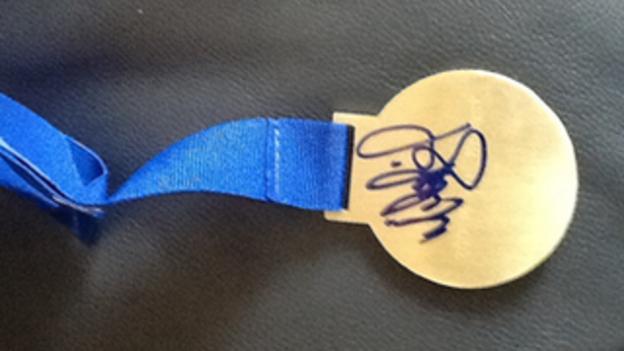 "I'd like to keep a Commonwealth gold though!"
Jamieson will be a hot favourite for Commonwealth glory in his home city this summer, having won his fourth British 200m breaststroke title in five years in a time of two minutes 07.79 seconds - the quickest swim in the world this year.