British Swimming Championships: Carlin sets stunning Welsh record
By Nick Hope
BBC Olympic sports reporter
Last updated on .From the section Swimming
Jazz Carlin set the fastest 800m freestyle time in the world this year at the British Swimming Championships.
Carlin, 23, touched in eight minutes 18.36 seconds to break her own Welsh record, with Eleanor Faulkner second and Jessica Thielmann third.
"I didn't expect that time today, but it's a massive confidence boost," she told BBC Sport.
Sophie Taylor, 18, won the 100m breaststroke and set a new British record.
Aimee Willmott, 21, added 200m butterfly gold to her 400m individual medley success on Thursday and set a new English record in the process, clocking a time of 2:07:97.
There were also wins for Francesca Halsall (100m freestyle), James Guy (100m butterfly), Charlie Boldison (200m backstroke) Adam Peaty (50m breaststroke) and Oliver Hynd (Paralympic SM8 200m individual medley).
The British Swimming Championships in Tollcross, Glasgow, are doubling up as the final opportunity for Glasgow 2014 Commonwealth Games qualification for England, Scotland and Wales.
After last year's trials, Carlin led the global standings heading into the World Championships but struggled to replicate that form.
However, the two-time Commonwealth medallist is determined to reach her best form in Glasgow.
"I learned a lot from last year and I've been training really hard to peak in the summer, so I'm a bit shocked by what I've achieved today," she said.
"In the warm-up, I was really, really rubbish and I was panicking a bit."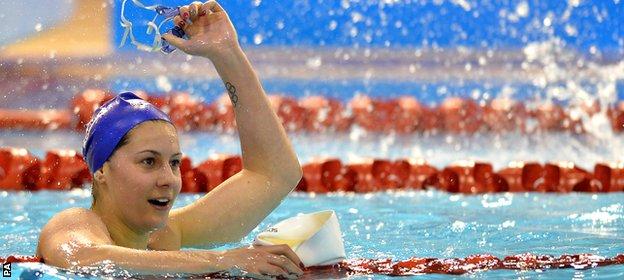 Taylor followed up successes over 50m and 200m with gold over 100m and became the first British swimmer to complete the breaststroke treble since Kerry Buchan in 2007.
"I knew it wasn't a given that I'd win and really had to fight for it," she said after finishing in 1:07:08.
Halsall's 100m freestyle victory was her third success of the 2014 British Championships and the sixth time she had taken the title.
The World Championship bronze medallist also qualified for the 50m backstroke final and admitted a gruelling schedule was behind her slightly below-par 100m freestyle time.
"I've swum 14 times already this week and I'm shattered," said Halsall after touching in 54.12 secs.
Guy, 18, followed up wins in the 200m and 400m freestyle events with gold in the 100m butterfly final.
"I really wasn't expecting to win that final," he told BBC Sport. "But it gives me some interesting options for Glasgow."
England's Peaty, who had to settle for silver medals in the 100m and 200m breaststroke finals, finally landed his maiden British championship gold by edging out Scottish rival Ross Murdoch.
Welsh Commonwealth bronze medallist Georgia Davies and England's Adam Brown secured the fastest qualification times for their respective 50m backstroke and 50m freestyle finals on Tuesday.