Water polo: GB women beat world champions Spain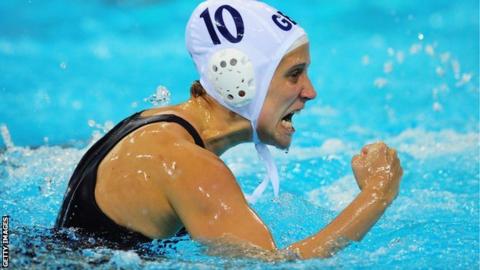 Great Britain's women's water polo team secured a memorable 9-7 win over world champions Spain in their final World League match in Manchester.
The side, whose international future is uncertain after losing UK Sport funding, triumphed 1-0, 3-1, 3-4, 2-2.
Victory followed gold for Team England at the Commonwealth Championships in Aberdeen earlier this month.
"You can see how we celebrated, that was like a final for us," said GB's Angie Winstanley-Smith.
"We've been through so much over the last three or four months. It's been horrific.
"We've had to look at our lives totally differently and to come away with a result like that shows you the strength we have and also the strength of character we have. We're not just a water polo team, we're a family."
Spain were unbeaten throughout their World League campaign, including a 13-5 victory over GB in January, and still finished top of the three-team Group A with Russia second and Great Britain third.
Water polo is not included in this summer's Commonwealth Games.
The sport was one of four to have its Olympic funding withdrawn by UK Sport for the 2016 Rio Olympics and Tokyo 2020.