Grant Turner: Team GB swimmer confirms retirement
Last updated on .From the section Swimming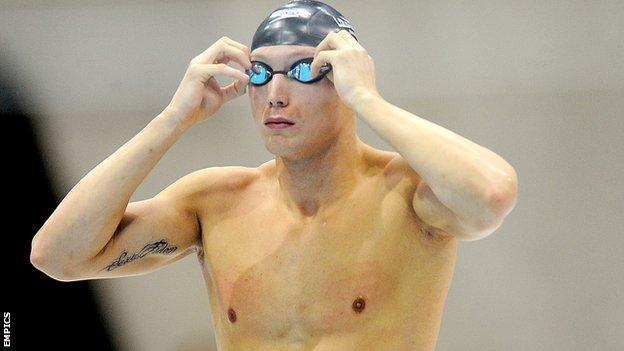 Swimmer Grant Turner has confirmed he has retired from the sport.
But he revealed last month that he was considering quitting after failing to make the 39-strong team for this summer's Commonwealth Games in Glasgow.
Turner announced his decision on his Twitter account on Friday, saying: "Very excited today to announce my retirement from competitive swimming."
The Swindon-born freestyle swimmer continued: "It's been an unbelievable journey and one that I'm very proud of.
"A big thank you to my family's love and support over the years and for all those 5am starts. My dreams would never have been achieved without your love and guidance.
"A big thank you to all my coaches and support networks also over the years, you know who you all are."
Turner went on to confirm that he would be now be working for the new swimming academy set up by his fiancée, Olympic freestyle medallist Jo Jackson.