Glasgow 2014: Liam Tancock wants to recover form for Games
By Nick Hope
BBC Olympic sports reporter in Manchester
Last updated on .From the section Swimming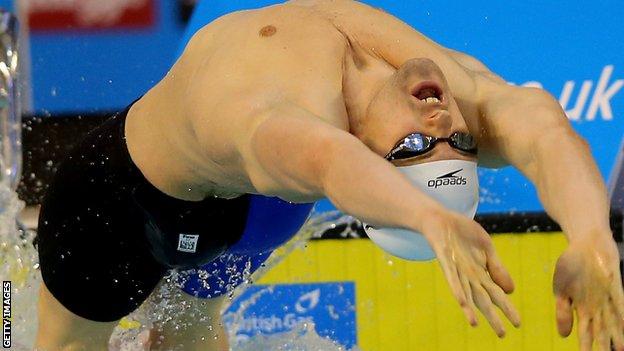 World record holder Liam Tancock insists he can compete for Commonwealth honours despite missing out on a British International Meet medal.
Tancock - the defending Commonwealth champion in the 50m and 100m backstroke - came eighth over the longer distance.
He then finished fourth over 50m on the final day, in a race won by team-mate Chris Walker-Hebborn.
"I just want to be in that racing situation in front of the best in the world," he told BBC Sport.
Tancock set the current 50m backstroke world record of 24.04 seconds at the 2009 World Championships in Rome, but was some distance off that achievement in Manchester - touching in 26.08 seconds.
"A lot of people don't know that I was injured late last year and I've now done all of the hard work and after a rest I know I'll be ready to give it my all," said Tancock, who missed out on selection for last year's World Championships.
The British International Championships in Manchester represented the final opportunity for swimmers to race competitively before joining up with their respective home-nation teams for next month's Games in Glasgow.
Eight-time British champion Roberto Pavoni, 23, rounded off his preparations with a confident victory in the 200m individual medley (IM) ahead of Denmark's Daniel Skaaning.
The Englishman has set the second quickest time in the world this year for a Commonwealth swimmer in the 400m IM and fourth fastest in the 200m IM.
"My aim is to pick up some international honours this summer because I've not done it before," Pavoni told BBC Sport.
"I was seventh four years ago in Delhi and I feel a lot more mature now and hopefully I can use that to my advantage."
Liam Tancock's personal best times

Long course 100m freestyle

48.76 seconds in 2009

Long course 50m backstroke

24.04 - 2009 (World Record)

Long course 100m backstroke

52.73 - 2009 (British Record)

Long course 200m individual medley

One minute 57.79 seconds - 2008

Short course 50m backstroke

23.10 - 2009 (British Record)

Short course 100m backstroke

50.14 - 2008 (British Record)
Plymouth-based Ben Proud completed his hat-trick of titles by following up victories in the 50m and 100m butterfly events with 100m freestyle gold.
Proud, 19, touched in 49.78 seconds, just outside of the new personal best time of 49.41 he had set in qualifying for the final.
"It's been a really good meet for me and just what I wanted before heading into a bit of resting and then the Commonwealth Games," he said.
England's Rachael Kelly followed up her surprise 100m butterfly victory at the British Championships in April with a further success in the event over Welsh rival Jemma Lowe.
Other race winners on the final day in Manchester included Lauren Quigley (200m backstroke), Bethany Firth (MC 200m freestyle), Thomas Hamer (MC 200m freestyle), Camilla Hattersley (400m freestyle) and Georgina Evans (50m breastroke).
The 2014 Commonwealth Games begin 23 July and run until 3 August.