Ian Thorpe: I'm gay, says former Australian Olympic swimmer
Last updated on .From the section Swimming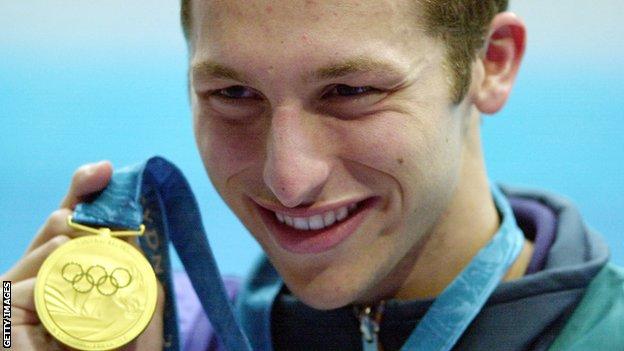 Five-time Olympic swimming champion Ian Thorpe has revealed he is gay in an interview on Australian television.
The 31-year-old told British journalist Sir Michael Parkinson on Channel 10: "I've thought about this for a long time. I'm not straight."
Thorpe had previously denied he was gay and wrote in his 2012 autobiography 'This Is Me' that he was heterosexual.
Australia's most decorated swimmer has suffered from depression and was in rehab earlier in the year.
In an emotional interview, Thorpe said he had only become comfortable in the last fortnight about talking openly to close friends about his sexuality.
"I've wanted to [come out] for some time but I couldn't, I didn't feel as though I could," he said.
"What happened was I felt the lie had become so big that I didn't want people to question my integrity."
Thorpe's decision to come out was supported by fellow Olympic swimmer Stephanie Rice who tweeted: "Thorpie is, and always will be, a superstar in my eyes."
He has spoken in the past of "crippling depression", having suicidal thoughts, and drinking too much.
In February, he was found in a state of confusion by police near his parents' house in Sydney.
Ian Thorpe factfile
Born:
13 October 1982
Young star:
Aged 16, won 400m freestyle at 1998 World Championships to become youngest ever individual male world champion
Titles:
Winner of nine Olympic medals, including five golds, 10 Commonwealth Games titles and 13 World titles
Thorpe had taken anti-depressants and medication for a shoulder injury - sustained in a fall at home - but was not under the influence of alcohol.
He made his Olympic Games debut in Sydney in 2000, winning three golds there and another two in Athens, but retired in 2006, before making an unsuccessful comeback bid for the London 2012 Olympics.