GB water polo team lose to Greece in 'last tournament'
Last updated on .From the section Swimming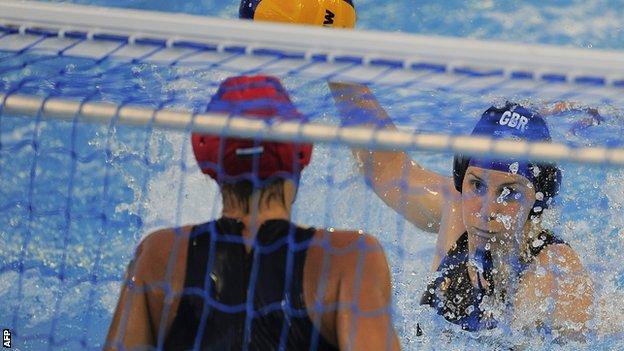 Great Britain's women's water polo team have lost the opening game of the European Championships, in what could be their last ever tournament.
GB lost 9-7 to Greece in their first group game in Budapest, Hungary.
UK Sport has cut the funding to water polo, meaning the team will be disbanded unless a successful campaign leads to qualification for the World Championships in 2015.
The team had hoped to compete at the Rio 2016 Olympic Games.
Against the 2012 European runners-up Greece, the scores were level at 6-6 going into the final quarter, but two extra-player goals from Alexandra Asimaki and Christina Tsoukala made all the difference.
Great Britain face the Netherlands next on Friday, July 18, and hosts Hungary on Sunday, July 20.
The top country in both four-team groups qualifies automatically for the semi-finals, with the second and third-placed teams in opposing groups playing off in the quarter-finals.
Team GB member Chloe Wilcox previously told the BBC: "If we qualify for the World Championships that's something to say - someone's got to throw some more money at us.
"Fingers crossed it will happen and we can continue the team going for at least another year."