Hannah Miley: Glasgow performances inspire bid for Rio
Last updated on .From the section Swimming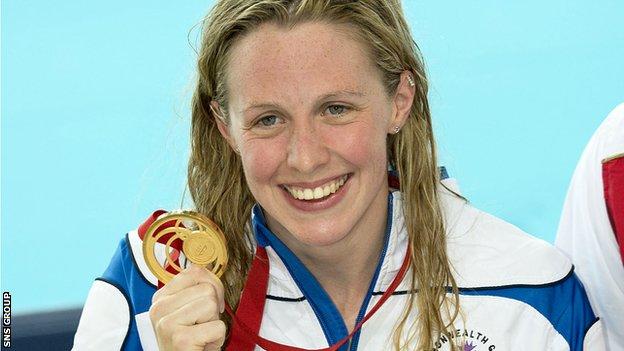 Hannah Miley says Commonwealth Games success has spurred her on to compete at the Rio Olympics.
"Rio is definitely in my sights," she told BBC Scotland. "Racing in Glasgow has given me huge confidence.
"After all the training and hard work I was able to have a breakthrough period, with multiple personal bests."
Miley, from Inverurie, smashed her own Commonwealth Games record to win Scotland's first gold in the pool and picked up a bronze in the 200m event.
She also finished fourth in the 200m breaststroke and 400m freestyle, fifth in the 800m freestyle and sixth in the 200m butterfly.
"I'm looking forward to Rio now," added Miley. "The motivation is there for getting back into training, knowing what we are doing is right. I've just to work at it and keep progressing."
A trip to Brazil in 2016 would be a third Olympics for Miley, who was fifth in the 400m medley final at London 2012, but a third Commonwealth Games may be a stretch.
"I take my career in two-year blocks, so I'll wait and see how things go after Rio," she explained.
"I'll be 28 going on 29 by the time we get to the Gold Coast and I think by then I'll have to have created a life outside the pool as well. But it would be amazing. Who doesn't love Australia?"