European Championships: 'GB would deliver with investment'
Last updated on .From the section Swimming
The British synchronised swimming team begin what could be their final international competition on Wednesday after losing a legal challenge against the withdrawal of their Olympic funding.
The coaching and support staff, including influential performance director Biz Price, have all been made redundant and the team are currently trained by former swimmers and London 2012 Olympians Katie Dawkins and Katie Clarke.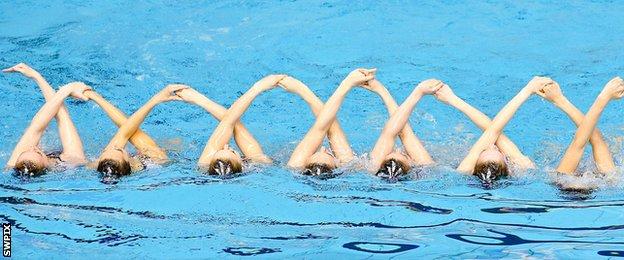 The legal challenge was launched in March, but an independent panel of experts appointed by Sport Resolutions, didn't uphold it.
British Swimming chief executive David Sparkes said: "We are clearly disappointed with the outcome of the hearing but accept the independent panel's decision with a heavy heart.
"We remain convinced that we had a world-class programme and coach, and with investment synchronised swimming would have delivered medals while encouraging more young women into the sport."
UK Sport announced they were removing the sports elite funding in February as part of a "no-compromise" approach where only squads that will challenge for medals in 2016 and 2020 would continue to receive their backing.
Speaking at the time UK Sport chief executive Liz Nicholls said it would be "high risk" to continue funding sports with little chance of winning a medal by 2020.
Former British and European Champion Andrea Holland is now a regular commentator on the international synchronised swimming circuit. She says the team will struggle to compete at a world-class level without the centralised programme in place.
She added: "Its incredibly sad because of the talent we have in this team. I want them to be able to realise their full potential, and that is going to be the difficulty without the funding."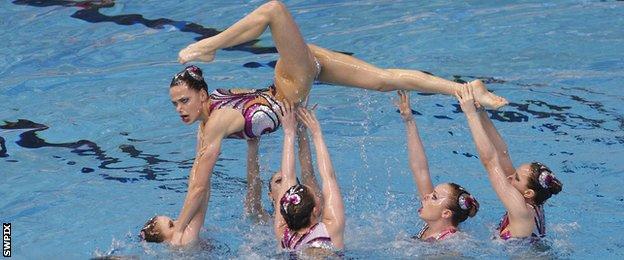 At the European Championships the GB synchronised swimming squad will compete in the solo, duet, team and combination events.
Genevieve Randall has assumed the position of the new GB soloist, and will also compete in the duet - positions that for the last decade were held by three-time commonwealth silver medallist Jenna Randall before she retired last year.
Randall, 16, who comes from Oxfordshire, said there has been a lot of pressure on the team. "It's been frustrating, but it's also motivation to do really well because we all want to have a good final competition," she added.
Randall will swim the duet with Jodie Cowie. It will be their first major competition together after Jodie made her senior international debut at the World Championships in the team event last year.
"We really want to finish the cycle with a really good competition," she said. "In training as well we know that it's going to be maybe the last competition so we always train every day to our best."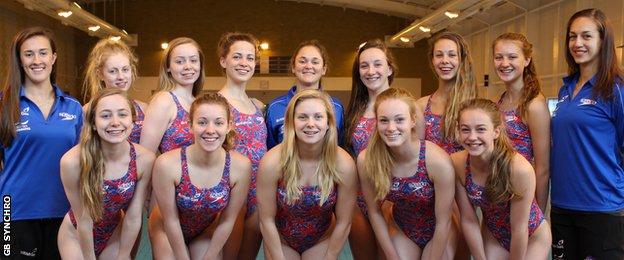 Before they flew to Berlin, the team put on a goodbye show to thank family, friends and support staff. At the event in Aldershot, British Swimming announced the plan for the future.
Funding is being put in place to support coaches at the four main Synchronised swimming clubs and a new round of selections for the team will take place in September.
Athletes will be expected to train by themselves and with the clubs during the week, and it is hoped that money can be found to pay for one day a week of elite centralised training together as a team.
Performance Director Lauren Smith leaves her role after the European Championships, but says there is still a future for the sport. "It makes me very upset to see that everything is going to go," she said.
"But obviously plans are in place and there is the positivity that we will continue. But it will be something quite different. The journey will be different, but the support from everyone will be there."
It is unlikely GB will qualify a full team of eight athletes for the Rio Olympics in 2016, but the duet is still a very real possibility. Key among those looking to make that journey is Randall, who is widely tipped to compete with the best in the world.
She already has her sights firmly set on a place on the GB team in two years' time. She said: "We're hoping to get funding from elsewhere, as that will help get world-class coaching and more competition experience. Rio is the goal."