Sycerika McMahon misses out on semi-final spot in European opener
Last updated on .From the section Swimming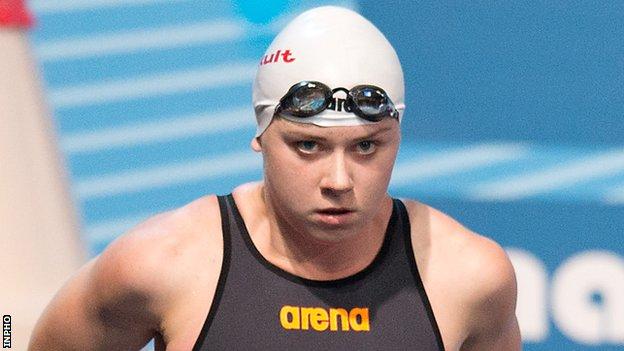 Sycerika McMahon's European Championship challenge began in Berlin on Tuesday with her narrowly missing out on achieving a semi-final place in the 100m breaststroke.
McMahon's time of 1:09.23 left her .04secs outside the top 16.
Her time was .18 faster than her recent performance at the Commonwealth Games but still almost a second down on her personal best of 1:08.37 set in 2012.
McMahon's team-mate Fiona Doyle was seventh in her semi-final.
Irish record holder Doyle's time of 1:08.77 left her 10th overall from the heats before she clocked 1:08.49 in Tuesday night's semi-finals which left her in 13th place as she missed out on a place in the final.
McMahon, 19, came into the European Championships after below-par performances in her main events at the recent Commonwealth Games.
The Portaferry woman was fancied to progress to at least one final in Glasgow but produced a disappointing swim in her main event, the 50m breaststroke on the opening day of the gala, and largely struggled thereafter.
The Northern Ireland was mystified by her struggles in Glasgow but said that she was hoping for much better in Berlin.