Sycerika McMahon fails to progress in Berlin
Last updated on .From the section Swimming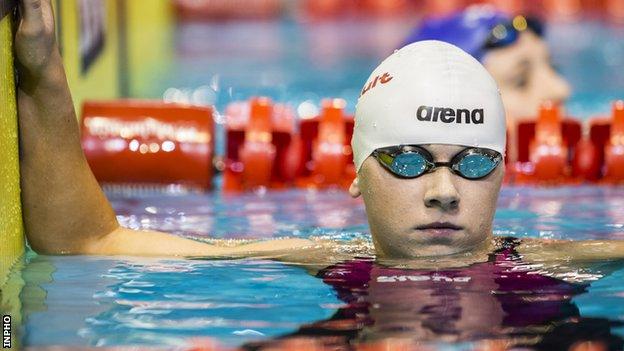 A personal best by Sycerika McMahon was not enough to take her through to the 400m freestyle final at the European Championships in Berlin.
The 19-year-old from Portaferry finished second in her heat in 4:13.26 to leave her 13th overall with the top eight qualifying for the final.
It was McMahon's last event in Germany and comes a day after she missed out on the 50m breaststroke final.
McMahon set a new best of 31.05 in the heats earlier on Saturday.
However, she could only clock 31.50 in the semi-finals as the Texas A&M based swimmer completed a disappointing summer.
"It was a terrible swim all round for me," McMahon told RTE.
"I slipped on the block and got a pretty bad start. But that's still not an excuse as I swam absolutely terrible.
"I dived in and I was behind everyone from the word go and I just started spinning and that's the worst thing you can do in a 50m race.
"It really, really was very disappointing for me, but you know it's done now and all I can do is just learn from it.
"This summer has been pretty terrible for me overall, but at least I know where I am now. It's a good indicator of what I need to work on and obviously there is a heck of a lot for me to work on right now.
"I've been training hard all year, but obviously it's not quite enough. It's just really disheartening at this moment in time. To not even make a final at the Europeans or the Commonwealths, I didn't train for that."