Swimming: How a new mindset brought Great Britain success
Last updated on .From the section Swimming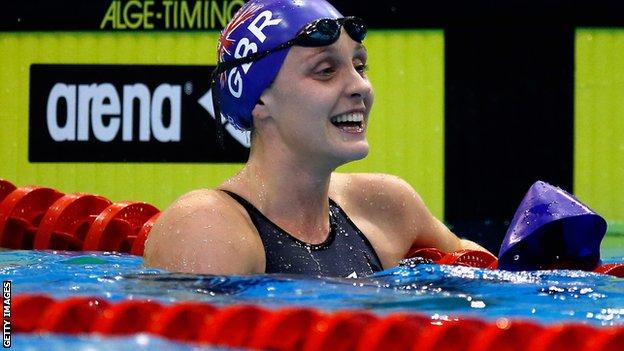 At the end of 2012 British Swimming was in a poor state.
Team GB swimmers had won just one silver and two bronze medals at the London Olympics, its head coach and performance director had both left and the sport had its funding reduced.
Two years on, the home nations swimmers have excelled at the Commonwealth Games and followed that up by delivering Great Britain's most successful European Championships.
"After London everyone went home and reassessed, and had to decide how they were going to make themselves better," said Team GB's Fran Halsall, 24, who won two gold medals at the Glasgow Commonwealth Games and another three in Berlin.
"For me, it was a change of coach, a change of programme, a different environment and that's helped a lot.
"There's just a little bit of a change in mindset, tweaking things here and there, because I don't think anything was broken before London.
European Championships medals table

Country

Gold

Silver

Bronze

Total

1. Britain

11

8

8

27

2. Russia

9

7

3

19

3. Italy

8

3

12

23

4. Germany

6

8

8

22

5. Denmark

6

1

2

9

Includes diving and open-water events
"We had the most finalists in an Olympics ever - it's just the medals weren't there and they were missed by tenths of a second."
Now the medals are there, and those tenths-of-seconds gaps are being bridged.
Those 'marginal gains', as well as the change of mindset, are due in large part to the influence of Dennis Pursley's successor as head coach, Bill Furniss, and national performance director Chris Spice, who both took up their posts in February last year.
"I suppose, behaviour," Furniss told BBC Sport when asked what he felt was the difference in British Swimming today compared with 2012.
"We're looking at world-class behaviours. We're getting everybody to do the very best they can all the time - in training, and in competition.
"You can see in Berlin, and at the Commonwealth Games from the home nations, we're a lot tougher, we're difficult to beat.
"What I've got to do is make that a normal behaviour.
"So for Great Britain this is what we expect: We swim against the best nations in the world and we expect to win gold medals, we expect to break records.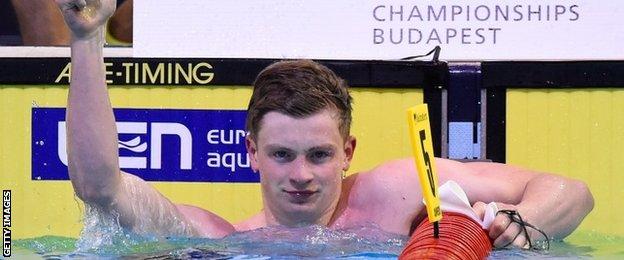 "So it's normal behaviour and then obviously we can take that forward to world championships and the Olympic Games."
Furniss is the man who coached Rebecca Adlington to two Olympic gold medals in Beijing and two bronzes in London.
Halsall believes that she and other GB swimmers are reaping the benefits of that experience as well as his accessibility.
"We see Bill around the pool a lot," she said. "I train at Loughborough and see him every week and have a lot of conversations with him.
"So the fact that I feel his presence a bit more and can chat and be open with him about how I'm doing, how I'm feeling and what I need is a great thing to have."
One of the most positive aspects of the successful summer was the emergence of new stars alongside others who had been around for a while and had rediscovered the winning touch.
Adam Peaty and Ben Proud are still only 19 years old, but took their first steps in senior international events and won multiple golds between them.
Peaty also gave further indication of his talent as he broke the 50m breaststroke world record - the first Briton to set a world best since Liam Tancock in 2009.
Others, such as Siobhan-Marie O'Connor, 18, and Ross Murdoch, 20, made names for themselves as well.
And Georgia Davies,Chris Walker-Hebborn and Jazz Carlin started to enjoy the sort of success they had been striving for.
"After London some people retired and we've got some young guns coming through,' said Carlin, 23, who missed out on the London Olympics through illness.
"We've got a great squad moving forward to Rio, and we're racing more and against the best in the world more often.
"I think when you get that race practice it's great going into major championships because you know you're ready."
Furniss underlines that aspect as one of his core strategies alongside nurturing that winning mentality.
"I suppose the biggest change is we're making them race more internationally," he said.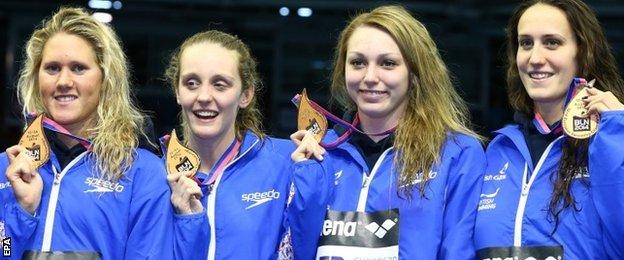 "We only brought 21 swimmers to Berlin, about a dozen of them senior and some good junior kids, and some of them got medals.
"We've found some young swimmers and they're progressing nicely.
"But I try to avoid words like 'exciting' and 'fabulous' and 'marvellous' because it's got to be normal.
"We've identified a good group of young swimmers, we're working hard with them and it's pleasing to see them stand up there on the European stage and deliver some goods."
The new talent, however, does excite Walker-Hebborn.
"Everything comes around," said the 24-year-old, who won backstroke golds in Scotland and Germany.
"The girls have been carrying us for a few years now but everything comes full circle.
"I've had a rough patch but I've started to come through and some of these young guns have rocketed through the ranks and have got plenty of experience.
"We've still got some fine-tuning to do, but I think we've got a lot to give in the next two years."