Swimming: Michael Phelps to take 'time away' from sport after arrest
Last updated on .From the section Swimming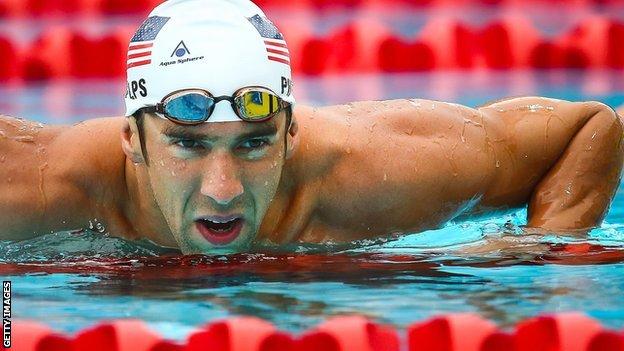 Olympic legend Michael Phelps is taking a break from swimming after his arrest for driving under the influence.
The American said on twitter: "I'm going to take some time away to attend a program that will provide the help I need to better understand myself."
Phelps won a record 18 Olympic titles between 2004 and 2012.
He added: "The past few days have been extremely difficult.
"I recognize this is not my first lapse in judgment, and I'm extremely disappointed with myself.
"Swimming is a major part of my life, but right now I need to focus my attention on me as an individual and do the necessary work to learn from this experience and make better decisions in the future."
His 4x4 vehicle had been registered doing 84mph (135km) in a 45mph zone going through a tunnel in Baltimore, Maryland.
Michael Phelps facts and figures
58 gold medals:
18 Olympic, 27 World Championship, 13 Pan Pacific
100m butterfly world record:
49.82 seconds, Rome, August 2009
200m butterfly world record:
one minute 51.51 seconds, Rome, July 2009
400m individual medley world record:
four minutes 3.84 seconds, Beijing 2008
Police said he was "arrested and charged with DUI [driving under the influence], excessive speed and crossing double lines".
He was previously charged for driving under the influence in Maryland in 2004. He pleaded guilty to driving while impaired in exchange for 18 months' probation.
Phelps retired after winning his 22nd Olympic medal at the London Games in 2012, but came out of retirement in April.