Roberto Pavoni saddened by swimming funding decision
Last updated on .From the section Swimming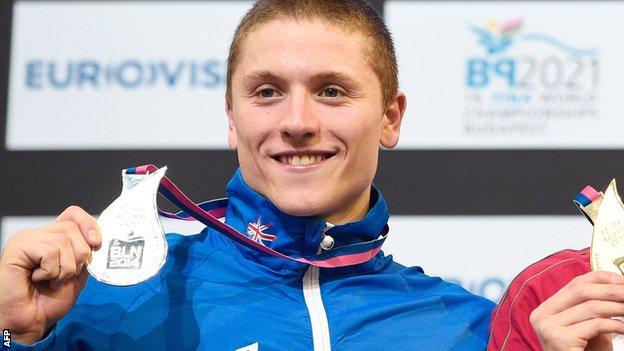 European Championship medallist Roberto Pavoni says he feels "disheartened" after losing his funding.
"The fact that two European medals and three Commonwealth finals to my name this year alone is not enough to earn me some support is extremely disheartening," he said in a statement to BBC Essex.
British Swimming declined to comment.
But when the squads were announced last week, national performance director Chris Spice said the organisation had been forced to take some "very tough decisions" and highlighted the performances of some of the younger members of the British set-up.
Pavoni won European silver in the 400m medley and bronze in the 200m medley in Berlin this year, and is the national champion in both of those events, as well as the 200m butterfly.
Pavoni's career highlights

European Championships 2014

400m medley silver, 200m medley bronze

British Championships 2014

400m medley, 200m medley, 200m butterfly gold

European Junior Championships 2009

400m medley gold

European Junior Championships 2008

400m medley gold, 200m butterfly silver, 200m medley bronze
He also reached the final in all three events at the Commonwealth Games but is yet to win a medal at World Championship or Olympic level.
After receiving central funding for 2014, he is not among the 64 athletes who will receive podium or podium-potential support next year.
"I am hugely disappointed to have lost my funding for next season," he said.
"Regardless of this setback, my focus remains 100% on continuing towards my goal of a medal at the 2016 Olympics.
"However, I am now in need of a sponsor to support me over the next couple of years.
"Financial aid is unfortunately a necessity in the sport, where I spend upwards of 30 hours a week training. It is a full-time job and this extends further than my time at the pool."