Chad Le Clos hopes Michael Phelps will return for Rio Olympics
Last updated on .From the section Swimming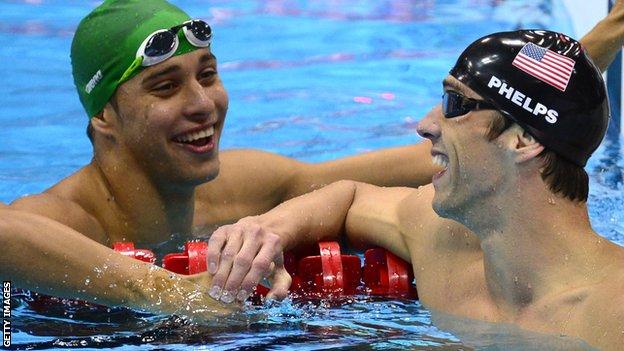 Chad Le Clos wants Michael Phelps to return to training so the pair can have a rematch at the Rio Olympics in 2016.
Phelps, 29, is currently serving a six-month suspension for his drink-driving arrest and has also decided to take "time away" from swimming.
"I really, really hope that he and his team decide to swim in Rio, I really believe it will be great," Le Clos, 22, told Reuters.
Governing body FINA said they would welcome Phelps back to the sport.
Despite his 200m butterfly triumph in London, Le Clos lost out to Phelps in the 100m butterfly and believes he can topple the most decorated Olympian in history in 2016.
"I believe by Rio, I should be in peak condition," he added.
"I don't think he (Phelps) will be worse in Rio, I think he'll be back where he wants to be. He's a champion in all respects, but I believe I can beat him again."
Phelps retired after the London Olympics having won a record 22 Olympics medals between 2004 and 2012, including 18 golds.
He returned to competition in April and qualified for the United States team for the 2015 World Championships in Russia, but was suspended by USA swimming following his arrest in September and will not compete at the worlds as part of his punishment.
"Michael Phelps is an icon, he's demonstrated everything he can demonstrate, he's the best Olympic athlete of all time," said FINA executive director Cornel Marculescu.
"If he comes back and swims, we'll be very happy, we'll welcome him and I'm sure all the swimmers will be very happy to race against him again."